Helping Our Soldiers #BringBackOurBoys IDF Search Party Food Collections in Jerusalem
Help Our Soldiers Help Our Boys
Jun 17, 2014
Responding to the needs of the 3,000 soldiers that have been deployed in Chevron as part of the search for three missing Israeli teens, Eyal Yifrach, Naftali Frenkel, and Gilad Shaer, the 'Help Our Soldiers Help Our Boys' campaign (http://www.jewcer.com/helpthesoldiershelpourboys) was started at the suggestion of the security teams in Hebron who realized the haste with which these units were deployed and the makeshift conditions in which they were therefore operating.
The situation there is tense and dangerous and they wanted to get the soldiers the extra food, drinks, and support needed to boost soldier morale and show them the 'love' of the nation. To help them in this effort, they enlisted Ziva Glanz- a long-time community organizer and Director of the 'Jerusalem 5800' Master Plan for the Jerusalem Metropolitan Area (www.Jerusalem5800.com)- for help. She in turn enlisted the help of friends Yoni Cantor Wiseman, Lisa Mechanick, and Adi Gidali to get the ball rolling.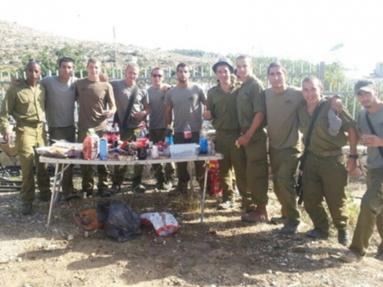 'People around the world wanted the chance to have a direct hand in helping support the troops who are looking for our boys, ' explains Glanz. 'They wanted to be able to 'do something,' and as soon as the Jewcer campaign began, the glory of the nation and friends of Israel was apparent. It was all we could do just to keep up. The response has been the kind-hearted, loving, embrace of a response that you would expect from the Nation of Israel, and their many friends.'
But even that was not enough. Momentum grew and people wanted a place to drop off funds and closed food items in Jerusalem as well. The 'Yerushalayim Meuchedet' ('United Jerusalem') party- a member party of the Jerusalem City Council led by representative Arieh King- immediately jumped in to help.

'I though it was a fantastic idea and one that truly speaks to our party's purpose of working to unite the various factions within the city,' explained King, who also heads the Defense portfolio for the city. 'At times like this, we all need to come together in support.'
Part of that support will be directed tomorrow at the students of the Mekor Chaim Elementary School, a Talpiot mainstay and the younger counterpart of Rav Adin Steinsaltz's yeshiva high school from where two of the boys were taken.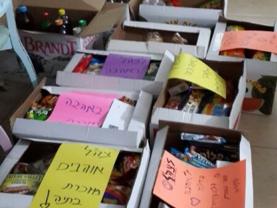 A solidarity tent will be open for donation of funds or closed food items, and to anyone who simply wants to come by and express their solidarity, in the square outside the old Mashbir building, at the top of Ben Yehuda Street in Jerusalem, from 10:30 am Wednesday, June 18th, 2014.
All donations of food or monies will be delivered that night to Gush Etzion/ Hebron region and distributed to the soldiers by the Security Teams in the region. 

The tent is sponsored by the "Help Our Soldiers Help Our Boys' campaign, as well as the Defense office of the Jerusalem Municipality, and located in HaMashbir Square. Students from Mekor Chaim will be in attendance.  

More information can be found at:
www.facebook.com/HelpTheSoldiersHelpOurBoys Ziva Glanz
052-595-1086 or 054-333-1056
---