Bus-Stop Books: Israel's Newest Public Library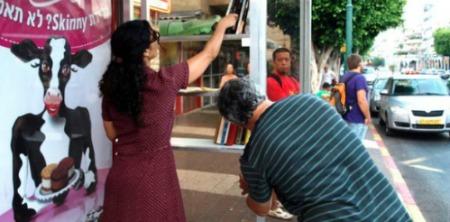 Imagine a library where there are no due dates and no librarians telling you to be quiet. Israeli artists have developed a new model for the urban library: a free bus-stop library for commuters and travelers of all ages.
Daniel Shoshan, an installation artist and lecturer at the Technion-Israel Institute of Technology, along with Technion graduate Amit Matalon, started this new public library concept figuring that people sometimes have long wait times for buses.
Their motto: You may take, you may return, you may add.

The duo built a series of bookshelves at bus stops throughout Israeli cities. The idea is that anyone may take a book from the shelf, read it at the station or take it on the bus and return it when done.
No due dates, no late fees, no rules.

"It started as an artistic project, and all of a sudden it was so successful I knew … it fits a new model for a public library," Shoshan tells ISRAEL21c. "Municipal libraries in Israel have asked me to start it here and I believe it will be a commercial project one day."
Shoshan believes the bus-stop libraries could be a place to recycle reading material taking up space on people's shelves and in public library basements.
The pilot was deemed a success as a self-sustaining public library, and now cities throughout Israel are coping the model. Shoshan, who says he has intellectual and "spiritual" creative rights to the idea, has been invited to implement the idea in some neighborhoods in Washington DC, and New York.
Wait in line at the bus stop, shuffle through a few books, and take one with you on the commute? The idea could not only increase literacy rates in communities, but also serve as a new way of connecting people.
---
Recommended for you:
---
Read the full article here.