Cooking With the Spices of Israel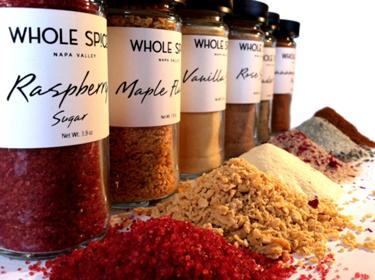 Copyright © Whole Spice Napa Valley
"When it comes to Israeli cooking today, it's not your mom's kitchen anymore," according to Ronit Madmone. She and her husband Shuli should know. As owners of Whole Spice, a large spice store in Northern California, a wholesale spice business and an online spice shop, the native Israeli couple keeps up on cooking trends in their homeland and around the globe.
The couple sells nearly 350 different herbs, spices, spice blends, salts and teas from 20 countries. That's about 100,000 pounds of herbs and spices per year – all of them certified kosher, to boot.
A generation ago, the only dry spices you would find in a typical Israeli home cook's kitchen would be paprika, turmeric, cumin, za'atar (a Middle Eastern blend of thyme, salt, sumac and sesame seeds), and bay leaf with some fresh parsley, cilantro and garlic, as well. Now, international spices and spice blends are culinary staples in Israel. "Everyone is traveling these days," said Madmone. "Young Israelis spend months or years in places like Thailand and India after the army, and they come back with a preference for the curries of South Asia and the tastes of the Far East. Specialty markets are opening up all over Israel selling these spices."
"Our moms and grandmothers will never use a blend. They have their basics, and they are confident that they know how to mix them together and use them in the traditional dishes they make," Madmone continued. But the younger crowd is more willing to try spice blends and to stock their kitchens with the spice mixes that various ethnic groups have brought to Israel over the years, including the more recently arrived Ethiopians and Russians.
Read the full article here.