#BringBackOurBoys DC Vigil for #EyalGiladNaftali
The Israel Forever Foundation
Jun 19, 2014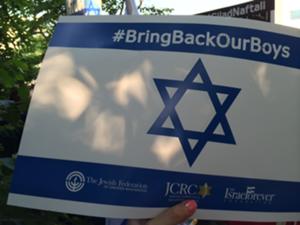 On Wednesday June 18, 2014 in Washington, DC, 250 people gathered outside The Embassy of Israel for a Vigil in support of Eyal, Gilad and Naftali, 3 boys in Israel who were kidnapped 6 days ago.
Speakers at the Vigil included Ambassador Ron Dermer, Congressman Ted Deutch and Congressman Eliot Engel, Ron Halber of The Jewish Community Relations Council and Pnina Agenyahu, a Shlicha from Israel currently living in DC.
"If you care about human rights, these are your boys, too!"

-Congressman Ted Deutch
U.S. Representative
Florida's 21st District
As quoted by Suzanne Pollak in The Washington Jewish Week, Ron Halber, JCRC GW Executive Director, called the kidnapping "nothing more than a moral outrage and an act of barbarism," and said the Jewish community here stands in "complete and total solidarity. We will not stop advocating until we bring our boys home."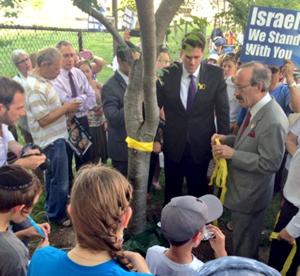 Just as was done 7 years ago after the kidnapping of Gilad Shalit in 2008, The Embassy of Israel has once again called for the international tying of yellow ribbons around trees and wearing yellow ribbons on one's lapel.
During the ceremony, Ambassador Dermer, Congressman Engel and Congressman Deutch each tied a yellow ribbon around a tree in front of the Embassy for Eyal, GIlad and Naftali.
"The vigil in front of the Israeli Embassy sends the message loud and clear that America stands with the families of Eyal, Gilad, and Naftali - the three boys kidnapped by Hamas.

They are our sons, our brothers, our boys. We stand in solidarity with the Israeli people and we stand steadfast in demanding that the Palestinian Authority and their partners in Hamas #BringBackOurBoys today."

-William C. Daroff
Senior Vice President
The Jewish Federations of North America
The Vigil was organized by The Jewish Federation of Greater Washington,The Jewish Community Relations Council of Greater Washington and The Israel Forever Foundation.
---