Female IDF paramedics' fight for life
"I looked up at the stars and tried to understand what had happened to me," she said. "I told myself that today is Friday and I should have been with my family for Kiddush, or even in Mexico, but instead I'm in Gaza, in the reserves, and maybe that's what was supposed to happen. Maybe I needed to be there to give my abilities to the wounded, guys from my battalion, 18-year-old soldiers who shouldn't be in my care. What have they had time to do in their life?" Staff Sergeant Yonat Daskal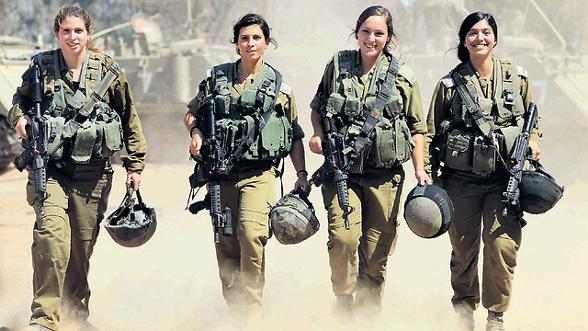 Copyright © Gadi Kablo/Yediot Ahronot
Staff Sgt. Yonat Daskal (23) from Petach Tikvah was released from her regular service after spending three-and-a-half years as a paramedic with the Nahal Brigade. "Throughout my regular service I was trained in preparation for the real thing and there was no way that I would be abroad when it happened," said Daskal. "I was in Gaza for a-week-and-a-half straight and then another 24 hours in and out, all without telephones or any contact with the world. Only on Fridays I thought about home. The rest of the time I was only focused on the work."
Bar-Ilan, an armored corps paramedic, entered the Gaza Strip with members of her battalion and was with them inside a tank for 12 days. "My greatest fear was that something would happen to the battalion's soldiers and that I would have to take care of them. The thought of not being able to save a soldier that I knew drove me crazy. When it got really hard, I reminded myself that I had to be strong for them."
Staff Sgt. Noam Dan is 22-years-old, from Dimona. During the operation, she entered Gaza with soldiers in the armored corps. "On the fifth day of the ground operation, they said on the radio that someone was wounded by sniper fire. I checked his pulse and felt nothing. I told myself that he has got to be ok and that I'll be visiting him in the hospital soon, and started giving him a cardiac massage. It was the hardest thing I've ever done in my life. The tank was driving on and I was massaging his heart. At a certain point I realized that our CPR efforts weren't working, and yet I still couldn't stop...When we arrived, the doctor pronounced his death. That's when I broke down. I told myself that this man deserves to be cried over. He endangered his life for me, for us. I laid down next to him and cried."
Staff Sgt. Tal Shahar, a 22-year-old from Tel Adashim, serves in the undercover operations unit of the Israeli Border Police. During Operation Protective Edge, she was ordered to join Maglan, an Israeli Special Forces unit, and entered the Gaza Strip with the unit's soldiers. Unlike other soldiers, she refused to write a farewell letter beforehand, "so that it wouldn't be a self-fulfilling prophecy. I hung a photograph of my boyfriend next to my dog tag and felt that it gave me strength.
The hardest moment was when I left Gaza and saw the pictures of those who were killed, one of them a 20-year-old that I had fought to save. So what exactly was he doing there? Fighting so that Israel would be able to live in peace.



These are the soldiers of Israel. When they are called to serve, so are all Jews everywhere. How are you fighting so that Israel will be able to live in peace?




---
Read the full article here.