Fresh, Flavorful Israeli Salads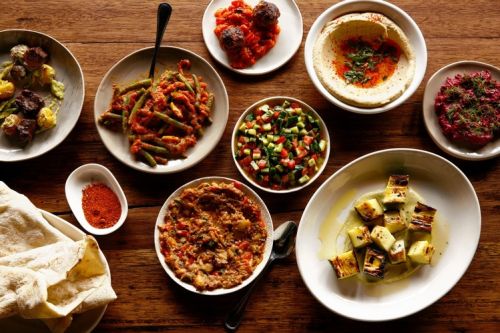 A HALF-DOZEN blocks from Independence Hall, in Philadelphia's Society Hill neighborhood, is a restaurant that celebrates the cuisine of a young nation and highlights the overlapping influences of the many immigrant groups that have made that land their home.
The restaurant is Zahav, and the nation of immigrants is not our own, but Israel. Chef and co-owner Michael Solomonov, who was born outside Tel Aviv and raised in Pittsburgh, has become America's leading interpreter of Israeli cuisine, which spans as far beyond the familiar hummus and shawarma as American food does beyond hamburgers and apple pie.
Meals at Zahav often start the way they do throughout Israel: with salatim (Hebrew for salads), an assortment of small salads and dips that might include, say, Moroccan spiced carrots, stewed eggplant, tabbouleh, tomato and cucumber salad and salt-baked beets dressed with tahini. Salatim bring us the broad sweep of the diaspora in a single course!
"What makes Israeli cuisine so stimulating is all of the layers to it," Mr. Solomonov said when I visited the restaurant recently. "You have all these people that have moved to Israel, and have brought with them all these foods from the Balkans, Morocco and Tunisia, Iraq and Iran, Poland and Russia and, lately, Georgia."
The salatim at Zahav present all of those influences, in a style described by some restaurant critics as modern—a characterization Mr. Solomonov doesn't fully embrace. "I don't know. We're using a wood-burning oven; we're cooking meat on sticks over charcoal. And the moment it doesn't taste like Israeli food—the moment it doesn't recall something that people have experienced at two o'clock in the morning in the Old City of Jerusalem—that's the moment we're not doing a service to it."
Read the full article here.