Drawings from Across Country Fulfill Fallen Soldier's Final Wish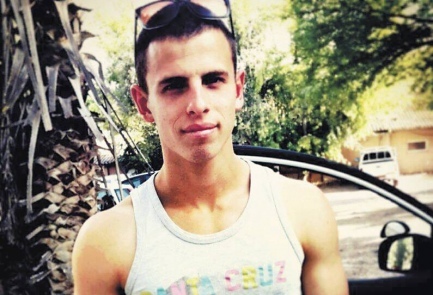 "I'm thrilled because for the first time I feel I am doing something for the country. The anxiety I'm feeling isn't only because of the fear, but also because of the excitement of going in [to Gaza]. I want to tell you I think I've left a part of me behind, a part to help remember me as I was. I miss my family. Mom, dad, my older brother, and of course, my cat Kitzi… I have only one thing to ask and that is to remember me."
These chilling words were written by Staff Sgt. Shahar Dauber days before he fell in battle in Gaza on July 23, 2014, while fighting with his paratrooper unit. Dauber, from Kibbutz Ginegar in the Jezreel Valley, was 20 years old. He is survived by his parents, Orly and Boris, his older brother Guy, along with his comrades and friends from the kibbutz.

One of Dauber's friends, Benzi Brofman, 31, a painter, composer and singer from Migdal Haemek, decided to fulfill his fallen friend's final wish, and next Sunday, on July 12, Kibbutz Ginegar will host an exhibit of drawings commemorating Dauber. The works were drawn by dozens of people from across the country, among them a group of children from Migdal Haemek.
"I met Shahar through his older brother Guy, who is a close friend of mine," said Brofman. "The eulogies at Shahar's funeral shook me. I was filled with so many emotions and information about Shahar, who I didn't know beforehand. I returned home devastated from the tragedy. And then the words came out and I wrote the song 'Hashahar Haoleh' [The Rising Dawn] as if I were Guy, Shahar's brother."
Brofman then decided to make an exhibit of drawings and letters to commemorate Dauber.
"It was like someone knocked on the door in my heart and said: Keep commemorating Shahar. He asked to be remembered. You need to keep going. On Memorial Day [for the Fallen Soldiers of Israel and Victims of Terrorism], I met Orly, Shahar's mother, who asked me draw a portrait of Shahar. And then I decided that it won't be only me, but that I would turn to people through Facebook and ask them to draw pictures to commemorate Shahar."
The pictures began flowing in from across the country. "One girl in second grade wrote: 'I was filled with sadness and I am thankful to you for sacrificing your life for me.' Many of the kids chose to draw Shahar with his cat Kitzi, and other drew Shahar the soldier," Brofman said.
See the full article HERE
---
More Recommended for You:
---
You Have the Power to Make a Difference in the Life of a Lone Soldier or a Victim of Terrorism