I HEART ISRAEL MUSIC FESTIVAL 2015
It's no secret that public opinion these days, on the subject of Israel is varied, to say the least. Last summer Jews found themselves having to jump into the role of instant Israel advocates, defending Israel's image. However, since 2008, there has been one NYC based organization that has focused its energy & resources to actively project a positive image of Israel through art, social events, and community engagement.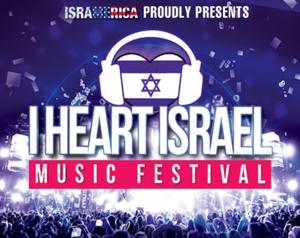 Isramerica has been hosting spicy, hot events like the sold out annual "Tel-Aviv Beach Rooftop Party", attended by well over 800 young Jewish American & Israeli-American Young Professionals and a slew of cutting edge cultural events such as "NYC Unplugged", (presenting Jewish Indie Bands at the famed Rockwood Music Hall on the lower east side,) "J Comedy and Poetry Fest" hosted (at legendary Stand Up NY in the UWS), "From Tel-Aviv to Broadway" and many other wildly attended outside of the box pro-Israel cultural events.
On June 18th we'll be hosting "The I HEART ISRAEL Music Festival & After Party!! This unparalleled event at NY's famed Stage 48 will feature LIVE music by Israeli Superstar Eric Berman, Tel Aviv based Electro-pop band BONAFIDE 3000, singer Arlene Gould, followed by an after party with Israeli Music by DJ Yaniv, an Israeli Shuk, I HEART ISRAEL Photo Booth, Blue & White Ice Bar & much more!
THE ARTISTS
Eric Berman is a multifaceted Israeli singer, songwriter, composer and performer. Once named Israel's Singer of the Year, in addition to writing his own music he writes songs for songs for other pop artists in Israel, like Aya Korem, Efrat Gosh and Miri Mesika . Eric has held such titles as Israel's Singer of the Year. Between 2008 & 2014 produced 3 albums plus a plethora of songs such as "I Couldn't." Since 2013 Berman has resided in NYC.
Bonafide 3000 is an internationally acclaimed electro-jump band hailing from Tel Aviv, who use cutting edge software instruments and sound effects to create a melting pot of electronic rock grunge tech dance and house music. The four members of the group bring together their experiences in different styles and production techniques, taking elements from different genres and combine them into one big exciting track that is performed live.
Arlene Gould is a Brooklyn based Urban Afro-Pop Musician and songwriter. A multinational mix of Caribbean and Israeli Roots by origin. Her years of exposure on the Israeli music scene from where she took off as a musician-songwriter, left a footprint of success. Having appeared on Israeli television and engaged in performances with her band around the country, she moved to New York City to further her quest for adventure.
ISRAMERICA is a fiscally sponsored non- profit organization comprised of emerging Israeli and Jewish-American artists, working together to create meaningful art inspired by the duality of leading a Jewish/Israeli/American lifestyle as a young artist in New York. Integrating the works of a group of fiercely talented young artists, ISRAMERICA brings you an all-star line-up of Israeli and Jewish-American performers, many of which have been featured on Broadway and off, various TV shows on Comedy Central, MTV and HBO as well as premiere music and comedy venues all over New York. For more information visit www.isramerica.com
ISRAMERICA Founded in 2008, by Sivan Hadari; an Israeli-American New York based producer, actress, publicist & activist, Isramerica has produced over 300 cultural events in the past 7 years and supports a cohort of over 80 multi-talented artists. Hadari has been an onsite reporter for Shalom TV with her show 'Jewish NYC' following the Jewish and Israel culture in New York, her one woman show; The Emancipation of a Sassy Jewish Woman, won the award for Best Solo Debut Off-Broadway and toured the US. Hadari was also awarded the 2013 Young Leadership Award by the Jewish International Connection of New York for her dedication to Jewish Life and was recently named one of the '36 Under 36' by The Jewish Week in their 2015 edition.
KulturFestNYC is a week-long festival celebrating Jewish Art and Culture. Artists, musicians, filmmakers, writers and scholars will come from around the world will and converge in New York City to celebrate the tremendous impact of Jewish culture. The Festival will instill pride in Jewish identity, draw international focus, broaden global understanding and underscore Jewish culture as a vibrant and important part of our heritage. For more info visit: http://kulturfestnyc.org/
SPONSORS
The Israel Consulate in New York, StandWithUs, The Israel Project, Israel Forever, The Israeli House , Sabra Phones, Moatza, JICNY, IAC Dor Chadash, Fuel for Truth,The Israel Ministry of Tourism, LBNY, The Israeli Film Center JCC Manhattan, The Israel Film Center, Thank Israeli Soldiers, The Kings Bay Y and RAJE. Media sponsors include The Jewish Week, NYBLUEPRINT, The Algemiener & YNet Yedihot America. Additional sponsors include: Pitopia, Eden Wok Sushi, The Shuka Truck & Breads Bakery, Success With Teamwork and Drizzle By Moran.

---
ENJOY MORE SONGS OF ISRAEL