Israel is a Beacon for Gay Rights in the Middle East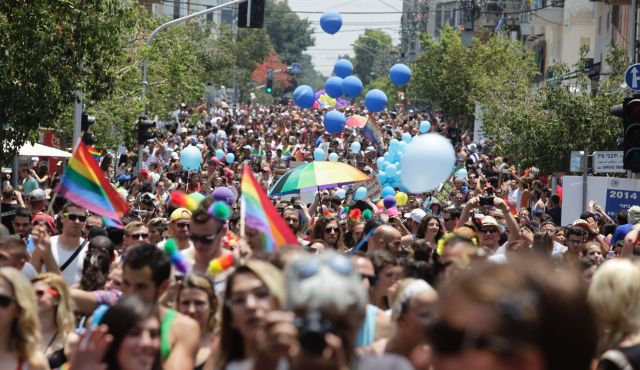 Tel Aviv is on a roll when it comes to support for the LGBTQ community with this year's parade being held in honor of the transgender community.
Since the beginning of June, the Tel Aviv Municipality building was lit up with the LGBTQ community's rainbow flag as Gay Pride Month kicked off.
Pride Week in Tel Aviv began on June 7, with a variety of events taking place throughout the week. The highlight for many, the Pride Parade, starts at Me'ir Park in Tel Aviv ending with a large beach party in Charles Clore Park. This year's celebration will be even larger than last year's, with an expected 180,000 participants, making it the continent of Asia's largest gay pride event.
On June 10, Tel Aviv will also host 40 Years of Pride, a large global conference for LGBTQ leaders. The conference will bring activists, mayors, academics, journalists, educators, lay leaders, and many prestigious speakers to build skills and networks, as well as celebrate LGBTQ progress in Israel.
Tel Aviv is one of the friendliest cities for LGBTQ people (rated #1 in 2012), even though the young country exists in a neighborhood with those who greet LGBTQ individuals not with parades, but with death sentences. Take Saudi Arabia or Iran, for example, which execute on homosexuality charges for acts against Sharia law and "bad deeds." In Gaza, Egypt, Lebanon, Libya, and other Middle Eastern countries, their fates are not much better.
In Israel, it is illegal to discriminate based on sexual orientation in employment, adoptions, partner benefits, and the military. While America hid gay military personnel with its "Don't Ask, Don't Tell" policy, the Israel Defense Forces began protecting by law out men and women in 1993. Considered in our culture to be basic human rights, they are certainly not a given in the Middle East, making Israel the outlier.
Countless LGBTQ celebrities and allies adore Israel, often times due to its progressiveness and open community. After a concert, Lady Gaga exclaimed, "Tel Aviv was magnificent. The worldview of Israel is just not reality. It's in a beautiful place, the people are in good spirits." She ended her last concert by saying, "Put your hands up and cheer for yourselves! You are strong, you are brave, you are confident, and I [sic] love you, Israel!"
Likewise, when Elton John performed in Israel, he said that no one could have stopped him from coming to Israel, referring to the pressure of anti-Israel activists and supporters of the anti-Israel and often anti-Semitic Boycott, Divestment and Sanctions (BDS) movement.
While many in the LGBT community fall for anti-Israel and often, anti-Semitic propaganda, ignorantly bashing the Jewish state, they must not forget their own oppression and denial of civil rights. While no democracy is perfect, Israel is the embodiment of what all those who believe in basic human rights want the Middle East to be.
Keep up with every new Israel Forever story on Facebook and Twitter and encourage your friends and family to join in the conversation!
---
Recommended for You: