After Fire, Israel's Carmel Forest Rejuvenates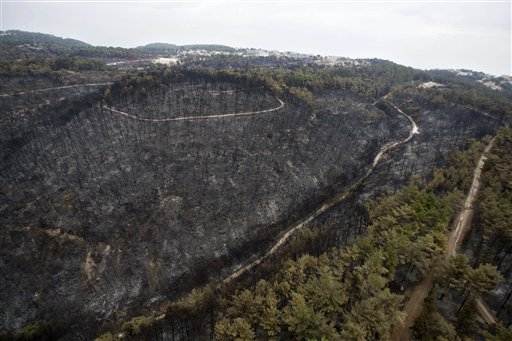 CARMEL FOREST, Israel (JTA) -- The rabbi's yarmulke fluttered in the wind, his hand holding it to his head, as he recited El Malei Rachamim, the traditional prayer for the deceased.
In front of him were 50 guards from a nearby prison. Behind him, a wall displayed the names of 44 prison service cadets, teachers, police and firefighters who died when a bus carrying the cadets was engulfed by the largest fire in Israel's history.
The Carmel Fire started on Dec. 2, 2010 and burned for five days, destroying 6,000 acres of northern Israel's expansive Carmel Forest. In June, the government released a harsh report in criticizing the conduct of its agencies during the fire.
But even as the country continues to mourn the fire's dead, the forest is being reborn. Trees are regenerating on their own, new species are being planted, protection against future fires is expanding and hikers are returning to once-charred trails.
Read the full article here.