Life under fire: How Ordinary Israelis Live with the Rockets
The Home Front Command has issued fresh guidelines to Israelis in the wake of the extensive rocket barrage at southern communities Monday night. For the first time since the IDF's Operation Pillar of Defense in 2012, there is a ban on gatherings of more than 300 people within a 40km radius of the Gaza Strip. Furthermore, there will be no activities at summer camps, kindergartens and special education facilities within this range - except for the heavily defended towns close to the Gaza Strip.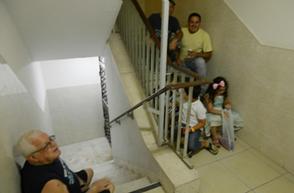 Dozens of rockets were fired at southern Israel on Monday, 30 of which landed in open areas, with another 12 brought down by Iron Dome over Netivot and Ashdod.
Ben-Gurion University of the Negev announced Tuesday that exams have been postponed and will be rescheduled. Sapir College on the outskirts of Sderot has also delayed its exams, while the Shomron College of Engineering has suspended classes and exams at its Be'er Sheva and Ashdod campuses, and Ahva College, east of Ashdod, has taken similar steps .
In addition, the local authorities bordering Gaza, as well as Ashkelon, Ashdod and Be'er Sheva , have opened their public shelters. And southern communities aside, the Iron Dome missile defense system has in recent days been deployed in other locations across the country.
Israel Railways also been affected by the barrage of rockets. Since the start of the heavy rocket fire, moving trains have slowed their speed, in accordance with Home Front Command guidelines. Following the heavy bombardment, there have been some train delays in parts of the country. According to Home Front Command instructions, trains that are at the station when the rocket alert sounds must remain there for seven minutes, after which they must continue at a reduced speed until leaving the area. Trains between stations during a rocket alert must slow down until they reach the boundaries of the sector.
"Calm will be answered with calm," Mordechai said, stressing that escalation would only lead to more escalation and a harsh IDF response. He said Hamas had taken the decision to wreak havoc on the Gaza Strip during Ramadan as distraction from its own economic and social problems.
---
Read the full article here.