Watching Your Language
'At A Made-in-Israel Meal'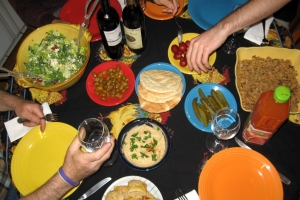 Is Israeli cuisine the original fusion food?

This year, a few weeks before Yom Ha'Atzmaut, Israel Independence Day, I inadvertently answered this question while shopping for a dinner to celebrate the day. Last summer, I had heard that at the Trader Joe's supermarket chain, several groups had attempted a boycott of Israeli products, and now I wanted to show my commercial support of everything Israeli by throwing a totally Made-in-Israel dinner.

I read on the Web site of the Israeli Embassy that "Americans spend about $100 million on Israeli foods each year." So, I figured, how hard could this be?
There was even a Web site, www.buyisraelgoods.org, that, depending on where you live, directs you to stores and products.

"Oh, too easy," I thought. What about the unlikely places? Could I find Israeli made products there? So I drove to an area of Orange County, California dubbed Little Gaza. That's when things started "fusing." I went into the Sinbad Ranch market, which caters to local Lebanese and Palestinians.

First off, in a burst of relief, despite the mostly Arabic typeface packaging, I saw cans and boxes of stuff I recognized: Falafel mix, stuffed grape leaves, pickles and halvah. And—surprise, surprise—a lot of it was even kosher. Who knew?
But as I scrutinized the labels more carefully, I saw that none of them were marked "Made in Israel." Among all this Middle Eastern food I saw "Made in Michigan," even L.A. The closest I found to Israel was some canned goods from Jordan.

Knocked off my original course, I turned to the other side of the Middle East street, so to speak. I visited Sami Makolet, a market in the Fairfax district of Los Angeles that is frequented by Israelis, where Hebrew always seems to be the lingua franca in the check-out line.

There, I purchased cans of pickles and eggplants, some locally baked pita, a big red box of chocolate-covered wafers and some spicy, cracked green olives.
My Israel dinner was getting more multicultural by the box. To add a little Hebrew flair to my dinner, I asked my friend, Rabbi Bob Golub, who is the executive director of Mercaz USA, the Zionist organization of the Conservative movement, for a little help.

In an e-mail he responded: "Start with your 'mivchar salatim—mini plates of different salads—meaning humus, tahina, tabooleh, babaganoush, etc."

"B'teavon"—Bon appétit!—he added.
Read the full article here.