This Man's Army? Women Officers Outnumber Men In The IDF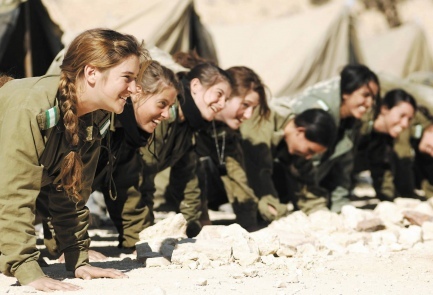 Several recent studies released ahead of International Women's Day have helped shape the image of the modern Israeli woman. The studies have found that Israeli women are not afraid of optimizing their potential in the Israel Defense Forces, are in no hurry to marry, sometimes raise their children alone, and are vigilant behind the wheel.
Women's roles in the IDF have undergone numerous changes in recent years. Some 34 percent of Israelis serving in the IDF are women, 57% of all officers are women, 28% of career officers are women, and 92% of all army positions are open to women.
Data released by the Central Bureau for Statistics on Wednesday sought to paint a picture of the single Israeli woman.

Fifty percent of Tel Aviv's female population aged 30-34 is single, and in Haifa and Rishon Lezion one out of five women remains unmarried. Ashdod and Petach Tikvah saw the opposite trend, with only one out of 10 women without a husband.
Ninety percent of women raise children with a partner, but one out of every 10 women heads a single-parent family, according to the bureau. Some 104,000 women raise their children without the help of a spouse.
Meanwhile, a report published by the Or Yarok Association for Safer Driving in Israel reported that Israeli women drivers — who represent nearly half of all Israelis behind the wheel — were involved in only 12% of all fatal car accidents nationwide.
Read the full article here.