From Nazareth Illit To The White House
U.S. First Lady Michelle Obama decides to include recipes of women from northern Israeli city in her national health campaign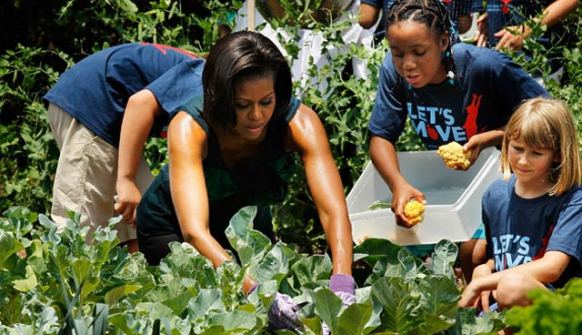 The cooking of Shula, Hannah, Yulia, Doris, Tzipi and their friends from the northern Israeli city of Nazareth Illit is loved by anyone who has ever entered their kitchen. In fact, their food gained such popularity that it has even reached the White House.
A book of recipes from the kitchens of the different denominations these women come from will be included in the national health campaign of U.S. First Lady Michelle Obama, "Let's Move!"
It all began in an empowerment workshop for women in Nazareth Illit's southern neighborhood, held in cooperation with JCD Israel's Ashalim Association, a non-profit organization dedicated to the planning and development of services for children and youth at risk and their families.
"We were a group of 12 women from different denominations, and every week one of us would present her kitchen and cook food she learned from her grandmother and mother. I, for example, brought the mujaddara (lentils and rice) my mother taught me to make," says Mazalit Kleinerman, a mother of three.
Several months later, Ashalim decided to put together a booklet containing the recipes written by the group of women from Nazareth Illit.

"It was very important for us to upgrade the recipes from the health aspect, so we added the nutritive values. The booklet was translated into English, and we reached the 'Let's Move!' program of Michelle Obama, who expressed an interest in our program," says Anat Penso, head of the interdisciplinary unit at Ashalim.
About a month ago, the book was presented to the first lady's team at the White House, led by Sam Kass, executive director of "Let's Move!" and senior policy advisor on Nutrition.
"We gave them the book and Kass was very enthusiastic by the idea, especially by the fact that adult women had written a type of authentic book which does not exist today. They maintain the tradition, and that's very important empowerment of women. They were enthusiastic by our entire program, which includes sports, health and nutrition," explains Ashalim Director Dr. Rami Sulimani.
Read the full article here.