Israeli Singers Present New Holocaust Songs for Yom Hashoah
By Elad Benari & Yoni Kempinski, Excerpted from Israel National News
On the eve of April 7th, this coming Sunday night, Jews in Israel and around the world will mark Yom Hashoah, Holocaust Remembrance Day, and remember the six million Jews who died during World War II.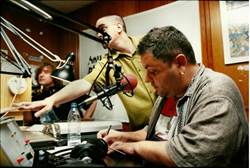 In honor of this solemn day, the Ministry of Public Diplomacy and Diaspora Affairs, in cooperation with Kol Yisrael radio's Reshet Gimmel station, has launched a special project, entitled "Voices to Remember."
Veteran and new Israeli artists compose and record new songs relating to the commemoration of the Holocaust. The project will be launched in a special broadcast on Reshet Gimmel on Wednesday, the eve of Yom Hashoah, at 5:00 p.m. (Israel time). The songs can also be heard on the project's website.
"I think it's very important to be a part of this project," singer Liraz Charhi, who took part in Voices to Remember, told Arutz Sheva. "We're talking about the Holocaust every year and we have to remember it all year long. I think the songs, the stories, the books we read and the documentaries we see on television have to be with us 24/7. Even if we're not looking at them or singing or listening to the music, it has to be with us 24/7. We must never forget."
Charhi, whose family came to Israel from Iran where the Holocaust did not take place, said she did not find it harder to connect to the act of remembering the Holocaust.
"It wasn't harder for me to relate to the Holocaust because I grew up in a Jewish country and this is a story of all of us," she said. "I know many people who were in the Holocaust, both friends and relatives, and even though my parents are from Iran, they had a very bad experience of being Jewish in another country."
Public Diplomacy and Diaspora Affairs Minister Yuli Edelstein told Arutz Sheva that one of the Ministry's main objectives in producing Voices to Remember is to ensure that Israeli youth remains aware of the Holocaust.
"We're not talking about the second generation today," he said. "We're talking about the third, fourth and fifth generation of Holocaust survivors. I think that the young Israeli artists are definitely the best ones to first of all learn themselves and feel it themselves, and then connect the younger Israeli generation to this terrible but very important subject in our Jewish history."
---
Come listen and learn this hauntingly beautiful prayer written by Hannah Senesh