Nickelodeon Israel Turns Kids With Disabilities Into Superheroes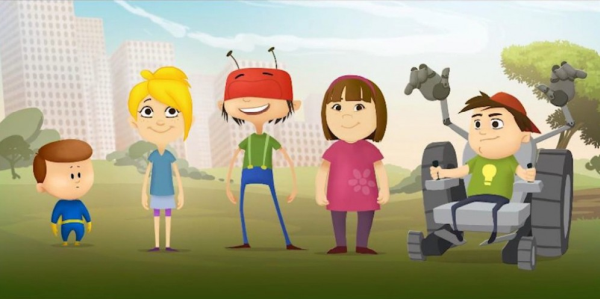 By Jonathan Revach, NoCamels
December 26, 2013
We've all heard of people with disabilities who make up for some limitations by excelling at other skills that can seem almost superhuman. A veteran Israeli association for mentally and physically challenged children has taken things a step further with a kids TV show that features superheroes with both disabilities and superpowers.
The show is expected to go on air on Nickelodeon Israel sometime next year. Named "True Superheroes," the show is designed to present a different point of view on people with disabilities, with the aim of promoting their acceptance as equal and valuable contributors to society.
The project was first marketed as a card game, designed in cooperation between Shalva and the Bezalel Academy of arts and design in Jerusalem.
"A few Years ago, the dean of student staff at Bezalel, Shelly Hershko, myself, and the heads of some other department at the school tried to find a way to harness Bezalel's capabilities to promote Shalva's public relations activities for the promotion of tolerance," Asaf Finkelstein, Director of public relations and advocacy at Shalva, tells NoCamels. One day, according to Finkelstein, a teacher named Yaron Loubaton suggested creating a group of superheroes with disabilities.
"An amazing connection with the kids"
"We were very excited by the idea," says Finkelstein, "so the first thing we did was to open a special course for at the Academy, which he taught." Loubaton then recruited someone who some consider to be the best comic-book illustrator in Israel, Uri Fink.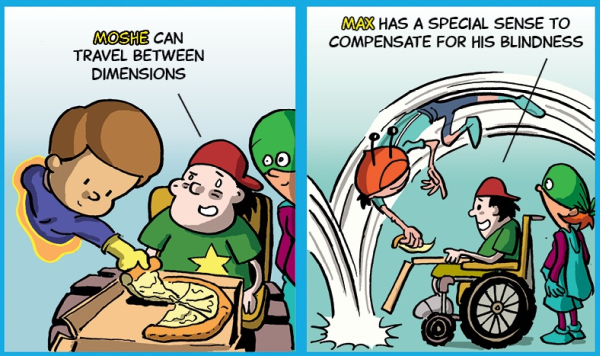 "The brief for the students was simple," says Finkelstein, "Create a superhero with a disability, no matter what it is." In later stages of the course, students met the kids at Shalva, and according to Finkelstein "The connection between them was amazing.
The idea for the animated show was brought up as part of a dialogue between Shalva and Nickelodeon," Finkelstein tells NoCamels. "We got to the conclusion that the best way to reach our goal of promoting tolerance towards the disabled in the long run – is to make a TV show, even if it's a short one," explains Finkelstein.
The show will start as a 15 episode series with one of Nickelodeon's writers in charge of the plot. "The plot must combine two central elements: tolerance towards others and Nickelodeon's inherent DNA," says Finkelstein.
Making an advantage out of the disability
The characters include Danny, an autistic 13 year-old who can transfer feelings and emotions to others through his eyes; 12 year-old Ora, who is deaf, but can hear things that are outside of the human hearing spectrum and Josef, a sensitive boy suffering from Down syndrome whose hands have special healing powers.
According to Finkelstein, "the characters are a major source of empowerment for the kids at Shalva and their families."
About 30 percent of Shalva's budget is given by the state of Israel, and the rest of its funding is donation-based. For that reason, in order to raise money for the "True Superheroes" TV show, Shalva is trying to raise funds on "start*ART" – a crowdfunding platform that promotes and funds art and culture projects. According to Finkelstein, Startart has voluntarily committed to the project.
The project has not yet been successful in raising the required funds and has raised only a third of the amount. "We had to postpone the original launch time, January 2014, because of these difficulties," says Finkelstein, "but luckily we were blessed with a partner like Nickelodeon that is very supportive, patient and believes in the project."
Shalva was founded in 1990 by Kalman and Malki Samuels, who believed that the advancement and welfare of children with special needs should not be placed solely on the shoulders of their families, but rather, the wider community. Today, already 200 volunteers serve over 500 infants, toddlers, children and youths with special needs, and support thousands of families, free of charge.
Click here to be redirected to the original story.
---
Related Posts: