What Passover Means to Young Adults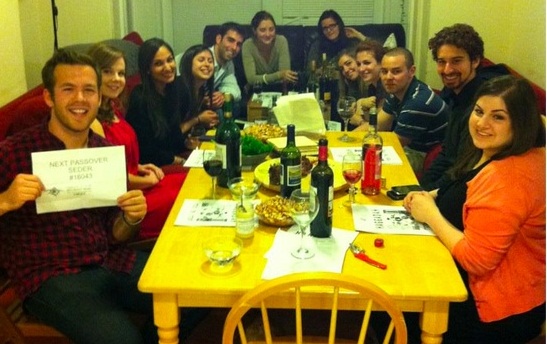 Passover is a unique moment. As we learn every year from the hundreds of Birthright Israel alumni who host Seders for their friends through NEXT's Passover initiative, the holiday provides young adults with a whole new space in which to explore identity, experiment with tradition, and build community.
What moves and motivates these young adults to create their own Passover experiences, and what can we learn from their stories? We dug through a trove of qualitative data contained in hosts' post-Seder surveys to find out. Their stories illuminated important lessons and questions for the entire field of engagement. Here is what we found:
1. Young adults feel a personal sense of responsibility for creating a Passover experience for their peers.

2. Hosts use their Seders to forge a personal connection to their tradition and heritage.

3. Sharing the Seder with friends – and particularly non-Jewish friends – reflects hosts' normative social behaviors.
Given these, how can we help young adults to encounter Jewish life in authentic ways that account for the reality of their diverse social circles?
The freedom to create a holiday celebration on one's own terms, in one's home, opens up a world of possibilities for young adults. We wonder: How can the behaviors that Birthrighters exhibit during these holidays inform our efforts to create more outlets for year-round Jewish experiences? What else can we do as a community to spark this sense of ownership and engagement with one's identity and tradition?

We know that the professionals and volunteers who work hard to engage young adults are grappling with these questions every day. We encourage everyone to share examples of what's working, new ideas, and how we can support you. By experimenting with innovative strategies to engage Birthrighters and their peers, we hope to unearth more avenues through which they can explore Jewish life.
Read the full article on eJewishPhilanthropy.
---
Keep up with every new Israel Forever story on Facebook and Twitter and encourage your friends and family to join in the conversation!