This Purim, Hamantaschen with a New Attitude
Haaretz (subscription required)
Feb 20, 2013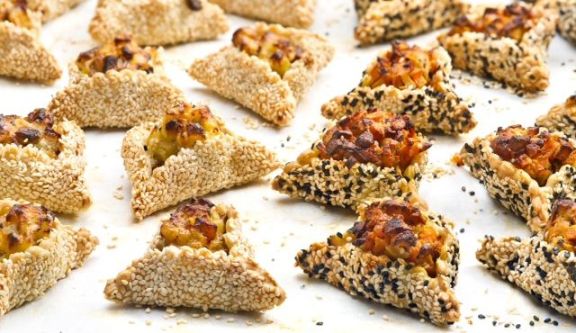 If you thought Hamantaschen were put on this earth exclusively to indulge your sweet tooth at Purim time, think again.

It sounds almost sacrilegious, but this season, a variety of salty and savory versions of the classic holiday cookie are also on offer. Goat cheese, pesto, potatoes, you name it – they've all somehow found their way into the pockets of these triangular-shaped pastries. Some say the triangular form of the Hamantaschen is meant to symbolize the three-pointed hat Haman was believed to have worn back in the day.
Hamantaschen is the Yiddish term for Haman's pockets, a possible reference to the money he offered King Ahashverosh in return for permission to annihilate the Jews (the Purim holiday, to remind you, is a celebration of this plan's undoing). In Hebrew, they're called "ozney Haman," or "Haman's ears." Whatever inspired the variation in names, up until recent years, there was little variation in the taste of Hamantaschen. You had the traditional poppy seed – a flavor most people either love or hate – and if you were lucky, maybe some prune, jam or nut-filled offerings.
At Israeli bakeries like Lechamim, which have turned pastry innovation into an art form, this season's lineup includes one brand of Hamantaschen stuffed with potatoes and herbs and another stuffed with sweet potatoes, goat cheese and chopped walnuts. The dough surrounding these fillings is salty and crisp, dotted with sesame and black onion seeds and almost flakey in its texture. These creations are far more reminiscent of mini-quiches than they are of the quintessential Purim pastry, so if you never thought of serving Hamantaschen as appetizers or h'or dourves, it might be time to reconsider.
Shemo, another popular bakery, has just rolled out its own new line of salty and savory Hamantaschen, featuring sweet-potato as well as pesto and cheese fillings. But even among its sweeter varieties, there are some new and exotics fillings, including maple pecan, brandy-flavored meringue, plums soaked in wine, ricotta cheese with raisins and chocolate chip custard.
Not to be outdone, Roladin, Israel's largest bakery chain with 43 branches around the country, has introduced two new Hamantaschen flavors to its collection this season: plums marinated in date syrup and mixed with almond cream and halva with pralines mixed with specks of Belgian chocolate. These come on top of some of last year's unusual additions, among them dates rolled in an Indian masala spice mix with chopped walnuts.
---
Recommended:
---
CELEBRATE PURIM WITH ISRAEL FOREVER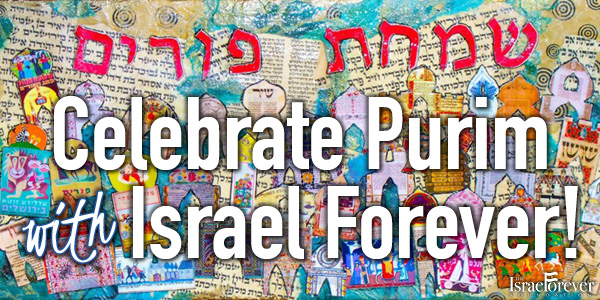 Read the full article here.