It's Time to Party: Purim in Israel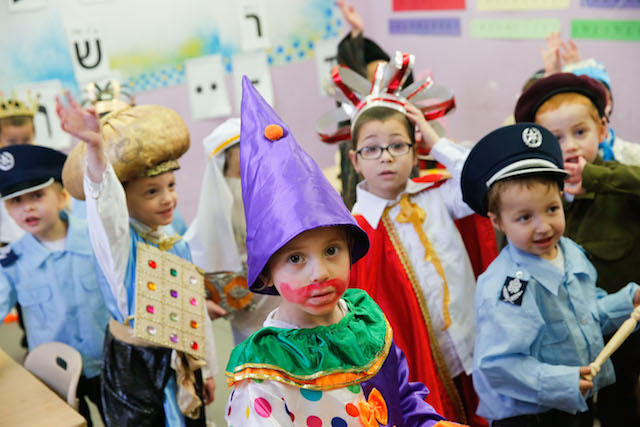 Copyright © Little boys get into the Purim sprit in Beitar Illit. Photo by Nati Shohat/Flash 90.
"So, what are the kids going to be for Purim?" the grandparents in Canada ask.

"Every day is Purim," we answer, in the week leading up to the holiday.

Purim in Israel, after all, is not just a one-day affair. It is one of the most loved times (for kids) of the year.
While many Jewish holidays celebrate deliverance from the hands of enemies, Purim takes it a step further. Many big public costume parties mark Haman's failed plan to destroy the Jewish people in the ancient Persian Empire.

The city of Tel Aviv hosts an annual Purim Rave Street Party at Kikar Hamedina that attracts thousands of partygoers (this year's event takes place Friday, March 21, at noon). The city's bars and clubs kick off the holiday celebrations on March 13 and there's a party for every style.

Jerusalem's main event (March 17, Kikar Safra, 11:30 a.m.) is a family-oriented happening with street theater, dance shows and singers.
Some try to compare Purim to the "Jewish Halloween" because of the costumes aspect. But that is a major misnomer. Halloween is officially dedicated to remembering the dead while Purim is all about celebrating salvation and life.
Halloween is also equated with candy and costumes, and though Purim includes these aspects it's also a religious holiday on which people donate to charity, exchange gifts of food and drink (mishloach manot), listen to the Book of Esther, and party hard.

Israelis aren't satisfied with one day of celebrations – in the week running up to the 14th day of the Hebrew month of Adar, schoolchildren wear costumes according to pre-determined themes.

My kids followed a costume schedule that included pajama day, boy-girl day, dress like an adult/baby day, sports day, opposite day and animal day. Read between the lines: Extra work for the parents!
Read the rest or the article at Israel21c.
---
Keep up with every new Israel Forever story on Facebook and Twitter and encourage your friends and family to join in the conversation!