Red Sea-Dead Sea Link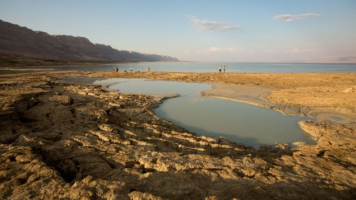 Copyright © Oren Nahshon/Flash90
Israel, Jordan and the Palestinian Authority inked an agreement to build a long-anticipated pipeline from the Red Sea to the Dead Sea, part of an initiative that would produce millions of cubic meters of drinking water for the parched region and slake the critically dwindling Dead Sea.
Representatives of the three parties to the agreement – Israel's Minister for Regional Cooperation Silvan Shalom, Jordanian Minister of Water and Irrigation Hazem Nasser, and Palestinian Authority Minister for Water Shaddad Attili – gathered at the World Bank in Washington for an official signing ceremony.
"This is a historic agreement that realizes a dream of many years and the dream of Herzl. The agreement is of the highest diplomatic, economic, environmental and strategic importance," Shalom said of the deal on Monday.
He added, "I am pleased that an investment of years has reached its hoped-for conclusion and will benefit Israel and the residents of the region as a whole. The other goals of this project are the generation of electricity by utilizing the difference in elevation between the Red Sea and the Dead Sea and the development of tourism infrastructures."

The Red Sea-Dead Sea canal, known informally as the Red-Dead project, is expected to cost $300-$400 million, to be raised from donor countries and philanthropic sources as well as a cash injection from the World Bank, the report said. Within a year, international tenders will be published for the construction of the pipeline in Jordanian territory along the Arava valley.

The surface of the Dead Sea lies some 427 meters (1,400 feet) below sea level, and water would naturally flow to it from the Red Sea. The project will be completed in four to five years, the report said.


Read the full article here.