Sampling Israel In Six Days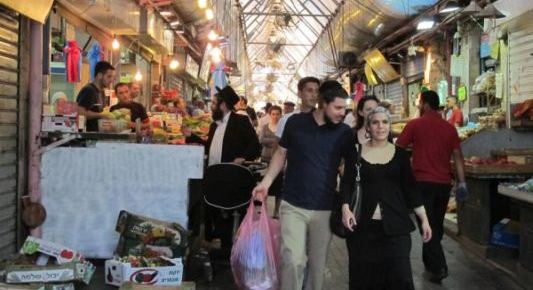 Machane Yehuda Market in Jerusalem
Photo By: Vivian Saper, Boston Globe
My sister and I sit on the patio of Café Suzanna in historic Neve Tzedek, under the shade of huge ficus trees, sharing an Israeli salad of tossed tomatoes and cucumbers, a root vegetable salad of kohlrabi, beets, carrots, and grapefruit, and thoroughly delectable grape leaves, with a touch of sweetness and a light yogurt and garlic sauce.
So begins our six-day trip to Israel, enjoying fresh Mediterranean cuisine in the first Jewish neighborhood outside the old port of Jaffa, built in 1887, two decades before the founding of Tel Aviv.

After three days in and around Tel Aviv, sightseeing by day and visiting cousins by night, we head to a spa in the Galilee before ending our trip with two nights in Jerusalem.
Neve Tzedek housed an artists' community in the early 1900s, but as modern Tel Aviv grew, the area's small structures fell into such disrepair that the city planned to raze the area and replace it with high-rise apartments. Thankfully, the plan was never implemented, and Neve Tzedek is now a chic, intimate pastiche of boutiques and galleries.
Ayala Bar, an award-winning costume jeweler, uses non-precious metals, stones, glass beads, and rhinestones to create colorful, intricate pieces, and the prominent Israeli fashion designer Sigal Dekel is known for a look that combines the feminine with the classic. The Suzanne Dellal Centre for Dance and Theatre showcases contemporary Israeli and international dance.
We have opted to stay in the seaside suburb of Herzlyia Pituach, at the Dan Accadia, overlooking the Mediterranean. Israeli hotels are known for their bountiful, scrumptious breakfast buffets, complete with omelet station, yogurts and cheeses, fruit and pastries, and the Dan Accadia doesn't disappoint.
Day three is beach day.

The next morning we drive two hours north to Mizpe Hayamim, a resort and spa in the Galilee, stopping briefly on the way in the ancient hilltop city of Safed, a center of Jewish mysticism since the arrival of scholars and mystics after Spain expelled the Jews in 1492. Today, Safed's cobblestoned Old City is home to synagogues and artists' studios.
The next morning, we drive 2½ hours to Jerusalem and check-into our hotel. From its rooftop restaurant we have a magnificent view of the walls of the Old City and the Tower of David. We walk to the Western Wall, carrying shawls to cover our shoulders at the holy site and, as is the custom, leave written notes of prayer between the stones of the ancient Temple wall.
My sister, ever the planner, has secured dinner reservations at Machneyuda, one of Jerusalem's hottest restaurants, located near the Machane Yehuda marketplace.
Read the full article here.