Someone To Watch Over Him: My Lone Soldier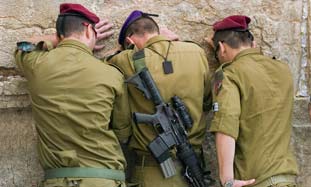 I am standing by The Western Wall in Jerusalem, a place I have stood many times before. I have prayed here, I have cried here and — God forgive me — I have mingled here.
Tonight I am here for something altogether different, something I have never done before, and am unlikely to ever do again. It is a Tekes Hashba'ah, a swearing-in ceremony for my son, who is being inducted into the Israeli army, more specifically the Golani Brigade, an elite combat unit.
Max is among 800 young soldiers being inducted this evening, marking the end of most of their basic training. He officially receives an infantry pin for his beret, a Golani patch, his gun and a Tanach, a Bible, on which he takes an oath of allegiance to defend both the State of Israel and the Jewish people.
My wife, Debbie, and I arrived two hours early for a good spot. Debbie is in the front row, right behind the barricade. I, being taller, am standing further back so as not to block the view of others. Beside me is an elderly gentleman, seemingly here for the same purpose. Behind us, an obvious tourist is speaking loudly into his cellphone, telling someone in English how excited he is to have stumbled onto this event. "The soldiers have a ceremony here tonight. You have to see it! It's the most amazing thing!"
The elderly man glances at me with a faint smile. For some reason he assumes that I am not just another tourist. Perhaps the look on my face is a giveaway, betraying some of what is in my heart. I am a tourist, and I am also the father of one of these soldiers. I am proud, and I am petrified.
"Are you here for the tekes?" he asks in Hebrew.

"Yes, for my son," I respond.

He raises his eyebrows. "Chayal Boded?" he says, asking if my son is a "lone soldier," the term for a soldier whose parents do not live in Israel.

"Yes," I respond.

"Kol hakavod!" he says, which I would loosely translate as "Bravo!"
Music is playing in the background as the soldiers march in. Behind us the tourist is still yelling into his phone. "Can you hear the music? They're marching! Hold on, I need to take a picture."
Read the full article here.