Special Needs Workers Open E-Waste Recycling Spot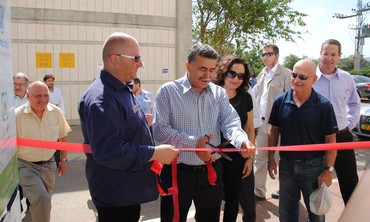 Crouched over rows of worktables with screwdrivers at the ready, a group of predominantly young men and women sits meticulously poking through metal computer chassis, disassembling the fans, motherboards and the tiniest of internal components for reuse.
Hailing almost entirely from Israel's special-needs population, the workers are employees of the Ecommunity Group's electronic waste recycling facility in Karmiel, where they are transforming technological trash into usable parts and wholes.
The "Ecology for the Sheltered Community" program through which the employees are working is the brainchild of Ecommunity CEO and founder Danny Kogen, who has a toddler with special needs.
His combined passion of integrating special-needs young adults into the workforce as well as the need "to transform electronic waste from an ecological hazard to a natural asset" drove him to launch the project, Kogen told The Jerusalem Post at the factory on Tuesday.
The mechanical precision involved in taking apart a circuit and an affinity for electronics can be "very therapeutic," added Ira Caplan, Ecommunity's liason to the United States. "Through the needs of his son, [Kogen] came to understand a gift that many special- needs kids have," Caplan said. "These people are part of us and they bring us a lot of strength."
While the effort first began as a smaller project in 2007, the company eventually opened shop in 2009 on Kibbutz Yasur, about 15 km. west of Karmiel. The new facility, in Karmiel's Misgav industrial zone, opened its doors technically about a month ago but was officially inaugurated on Tuesday in a ribbon-cutting ceremony led by Environmental Protection Minister Amir Peretz.
In the spacious factory workroom, surrounded by stacks of all-in-one printers and LCD monitors, Jewish and Arab employees worked side by side and disassembled spare parts for reuse. Still others thrived as computer technicians, assembling new computers and reconfiguring broken ones for secondhand resale.
Read the full article here.