The Last Word with Ariana Heideman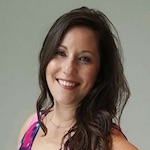 Ariana Heideman lives in Washington, D.C., where she recently established her own firm, Starburst Communications, specializing in event planning, brand management and marketing. As an Israel enthusiast, passionate about the future of the state of Israel and the Jewish people, Heideman devotes much of her private time as a volunteer with various Jewish and Israel advocacy organizations.Born in Louisville and raised in Bethesda in a family of ardent Zionists, Heideman is a Charles E. Smith Jewish Day School class of 2000 graduate. She has a B.S. in fashion design from Philadelphia University and a M.A. in communications from American University. Currently she serves as special events coordinator for The Israel Forever Foundation, as a B'nai B'rith Girls chapter adviser, as a member of the Reverse Mifgash October 2012 host committee, and as co-chair of Impact DC, which takes place in November 2012.

You were recently voted Gather the Jews' 2012 Jewish Girl of the Year. Will you describe this award and what it means to you? 
Gather the Jews announced a competition in D.C. where the community would have the opportunity to elect a Jewish Girl of the Year and a Jewish Guy of the Year. I was honored to be nominated and feel very privileged to have been elected and have the opportunity to represent the organization and my generation at various functions throughout the area. I believe that bringing young professionals together in a comfortable and welcoming setting which has an Israel-based focus is an important component to help ensure the strength of our community in the nation's capital. It is also a great way for Jewish singles to meet each other and network both personally and professionally.

Starburst Communications is your new event planning and marketing shop. What are your initial goals for the business? 
Following my three years as programming coordinator at WDCW-TV, I have now launched my own firm, Starburst Communications, which will afford me the opportunity to utilize my organizational, design and technological skills in new and creative ways. A bright future for any event, program or business venture requires quality marketing outreach and dynamic and detailed planning. I feel qualified and excited about my professional entry into this arena, and I am committed to providing my clients with services that will help insure the realization of their individual, organizational and corporate success.

Someone just gave you $30,000 to plan and execute a charitable event of your choosing. What are you thinking? 
I'm thinking how fortunate I am! If given the opportunity to select the charitable event on which to spend $30,000, I wouldn't be me if I weren't inclined to promote the "Virtual Citizen of Israel" initiative of the Israel Forever Foundation. I believe this initiative offers each of us the opportunity to take a public stand that says: "Even if I cannot make aliyah and move to Israel, I can declare myself a virtual citizen devoted to her future." I would plan, publicize, promote and market an inviting gala event that would highlight the successes of Israel while stressing the importance of taking pride in her many contributions to all mankind throughout history. I would plan an event so convincing that everyone would want to join me as a Virtual Citizen of Israel.

What was the best part about traveling to Israel and working abroad? 
My decision to make aliyah after college in 2005 was a long-time dream of mine, and I know what a privilege and blessing it is for me to have had this dream come true. On my aliyah flight to Tel Aviv, I felt part of the long history of the Jewish people, I knew I was making a statement of commitment to the past, the present and the future, that I would never be alone in that quest, and that I was now truly standing together with my heritage and with Eretz Yisrael. I must tell you that that flight was the most emotional one of any I have ever taken to Israel, and I have taken many over my lifetime. Living and working in Israel is almost indescribable: it is comfortable, it is fulfilling, it is fun and it is a part of who I am. Even as I am now back here in D.C., I continue my love, my commitment and my enthusiasm for the state of Israel and her people - no matter where they reside.

What's the best advice you've ever been given? 
Golda Meir inspired a nation. In her words, "Trust yourself. Create the kind of self you will be happy to live with all your life. Make the most of yourself by fanning the tiny inner sparks of possibilities into flames of achievement". These words by this incredible woman are motivating, inspirational and the best advice anyone could ever offer another human being. 
---
Read the full article here.