This is What a Zionist Looks Like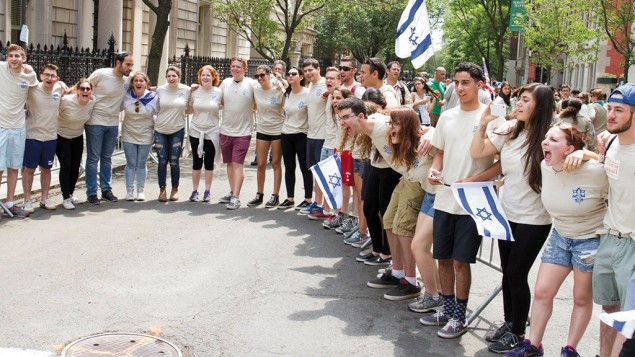 Their parents did it. Their siblings did it. Many of the friends they left behind are doing it.
So it's not surprising that new high school graduates like Lior Peri of Cresskill, Yonatan Hochberg of Closter, and Lihi Moshe of Fair Lawn are headed to Israel later this summer to prepare for service in the Israel Defense Forces.

Their journey back to the land of their birth is facilitated by Garin Tzabar, an Israel Scouts-affiliated organization dedicated to providing a framework of support for "any Jew from anywhere who decides to move to Israel and join the army as a lone soldier," according to Yair Ran, director of Tzofim Garin Tzabar for North America through Friends of Israel Scouts.
"I always knew I wanted to go to the army," said Ms. Peri, 18, the oldest of five siblings born in the Tel Aviv suburb of Ramat Hasharon. She was 14 when her family moved to Cresskill. "My parents both served in the IDF and they support me. I also heard from a lot of my friends in Israel who are starting their service, and that will definitely help me through the process of the army, since my family is staying here in the U.S."
Ms. Peri says that her Cresskill High School classmates encouraged her decision. "Most of my basketball and track teammates asked what motivates me, and I told them that the experience will mature me and teach me and make me stronger," she said.

She'll be leaving late this month to visit relatives and friends, and then on August 19 will join her Garin Tzabar group of 21 young adults at Kibbutz Yizre'el in the Jezreel Valley, where they will spend about three months getting their paperwork, their bodies, and their Hebrew skills in shape for the military. Once they begin their service, they will meet every weekend back at the kibbutz to share their feelings and experiences through Garin Tzabar facilitators.
Garin Tzabar (literally a "seed group of sabras") holds seminars educating prospective participants and their parents about IDF culture, arranges group flights, and — perhaps most importantly — places each seed group of 20 to 25 teens on one of 50 kibbutzim that cooperate with the program. The lone soldiers dorm together and contribute labor to the kibbutz. In return, their meals and laundry are taken care of, and each gets assigned a surrogate family. Those who do not already know Hebrew are provided with intensive lessons.
The program is entirely voluntary. No Israeli citizen living abroad is required to join the military, although it is compulsory for Israeli residents when they turn 18.
See the full article HERE
---
More Recommended for You:
---
You Have the Power to Make a Difference in the Life of a Lone Soldier