Touring Israel With A Paint Brush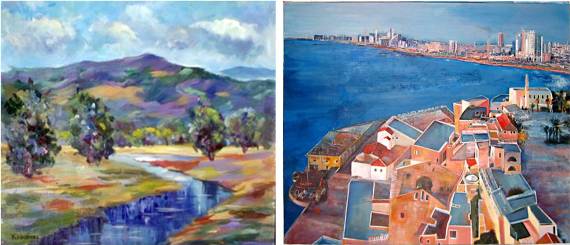 Everybody takes pictures when they travel to a new place. But that's not the same as experiencing a locale through photography, painting or dance.

Several new initiatives in Israel allow you to do just that, even if you're not artistic by nature.
"Our theory is that when groups go anywhere it's all about their personal experience with the place." says sculptress and art educator Hannah Rendell, who hosted 1,000 tourists in Beersheva last summer through her new Beer Sheva Art Experience.
Croatia-born and Canada-raised painter Igor Mojzes moved to Tel Aviv last August and founded Paint Israel Art School, which will be offering an eight-day painting tour of Israel in cooperation with Gordon Tours.
New York-based art curator and consultant Ayelet Danielle Aldouby, who lived in the artsy city of Safed (Tzfat) most of her childhood, helped devise the itinerary for a recent Keshet Tours trip to Israel from the Mizel Museum of Jewish Art, Culture & History in Denver, Colorado.
"For those who have not been to Israel before, the dialogue is completely different than usual. It offers a whole other engagement and level of conversation about the social, religious and artistic aspects of Israel." says Aldouby.
Read the full article here.