Winemakers Revive Ancient Negev Wine Route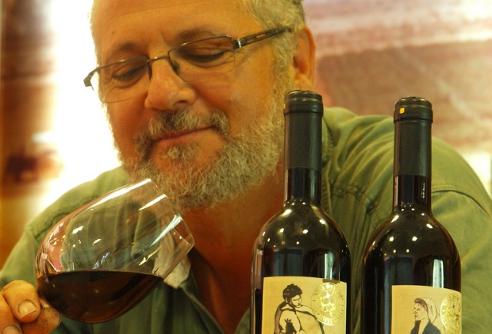 Hannah and Eyal Izrael founded Carmey Avdat, one of nine Israeli vineyards established along the path of the old wine and spice routes in the Negev Desert highlands. These farms have brought back to life ancient grape-growing terraces from a forgotten civilization.
"During our travels through the Negev, we came upon a hidden riverbed with remains of an ancient farm and vineyard. We instantly fell in love with the place and decided that we would establish our farm at the site, which had been a vineyard during the Nabatean period more than 2,000 years ago. We established the Carmey Avdat Farm there in 1998," recounts Eyal Izrael.

They and eight other families were able to realize their dream of cultivating grapes and bottling wine with the help of the Wine Route Project of the Ramat Hanegev Regional Council, which provides the land and access to agricultural expertise.
The Kadesh Barnea Winery, the largest in Ramat Hanegev, produces more than 80,000 bottles annually under the management of founder Alon Tzadok, and his wife, Nira. Their son Gilad handles sales and marketing, while their other son, Yogev, and his wife, Eden, are the winemakers. The couple studied winemaking in Florence, Italy.
Gilad Tzadok explains that Kadesh Barnea was established in 1997 at Moshav Kadesh Barnea, a bit west of the Wine Route. "My father wanted to see how the grapes would adjust to the desert heat. He produced 1,000 bottles and everybody liked it."
For a few years, Alon Tzadok sold much of his crop to Barkan Wine Cellars, the second-largest winery in Israel, but beginning in 2003 the business stayed on the farm. At that point, Kadesh Barnea became kosher (meaning that the entire process is handled by religious Jewish employees) because kosher wines find a larger domestic and international market.
They press their own grapes and others from area farms, producing varietals including Petit Verdot, Shiraz, Cabernet Sauvignon, Cabernet Franc, Mourvèdre, Sauvignon Blanc and Chardonnay. "All the grapes are from the desert because that's what we believe in," says Tzadok.
The wines are sold in the United States, and exports probably will be expanded to France and England.
This year, Kadesh Barnea planted five acres of wine grapes at Desert Shanti House Youth Village, a therapeutic refuge in Ramat Hanegev for teenage runaways. The youth village will receive all the profits from the sale of the grapes.
Read the full article here.