70 Names of Jerusalem Art Activity
According to Jewish tradition, there are 70 names to the holy city of Jerusalem. This project was developed to help students of all ages reflect on the importance of our holy city Jerusalem while creating a unique piece of artwork.
The name Jerusalem appears in the Torah at least 667 times with the first biblical reference in Bereshit 14:18 to a town called "Salem" and the first reference by the name "Jerusalem" in Judges 1:8. Jerusalem was again recalled in the prophecy of Isaiah which was heard in this city 2,700 years ago and which still resonates: "How pleasant are the footsteps of the herald upon the mountains announcing peace, heralding good tidings…"

Jerusalem appears in the Christian New Testament 154 times. Until the 10th Century, Muslims called Jerusalem, "Ilya." From the 10th Century on, Muslims used names with Jewish references: "Beit Al-Makdis," the Arabic version of Beit HaMikdash (Hebrew, for the Jewish Temple), "Al Quds"–a version of "Ir HaKadosh" (Hebrew, for Holy City) and even "Siyyun" (Zion). But it was the 13th Century Arab biographer and geographer, Yakut, who wrote: "Mecca is holy to Muslims, and Jerusalem to the Jews" - a statement that remains true in spite of countless efforts to again deJudaize Jerusalem.

Discover some of the different names used throughout the Bible for Jerusalem.
As with all our activities, this project is developmentally appropriate for artists of all ages and can be adapted accordingly to fit the needs of your students. Should you have any questions, or need guidance or advice on how to adapt this project to accommodate your students, please do not hesitate to email Stefie at Stefie@Israelforever.org.
DOWNLOAD ACTIVITY
We hope you have enjoyed using this resource. Your feedback matters. Please take a minute to fill out our evaluation form and help be as effective as possible in providing the resources and tools you need to make the personal Israel connection come to life, whatever the age, wherever you are in the world.
---
Recommended for you:
About the Author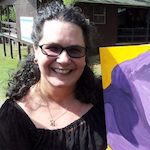 Stefanie Jo Heideman, founder of
Art Escapades
, is an art educator who believes that art is not supposed to be competitive, but rather a peaceful, relaxing experience for one to engage in and enjoy. As the Arts and Education Specialist for Israel Forever, Stefie is able to weave her love of Israel into her projects and lesson plans for individuals of all ages and stages of life.