Yerushalayim Micrography
Micrography is a fun way for you to combine words and images that remind you of Jerusalem, our holy city and capital of our nation, center of our hearts.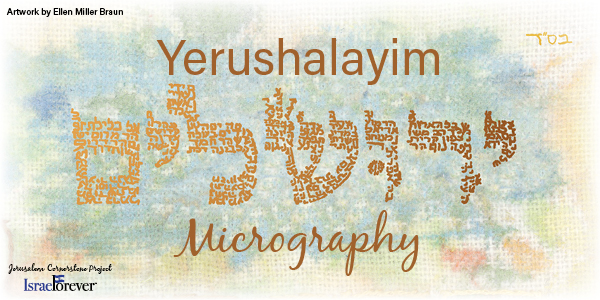 This Jerusalem Micrography art activity is a way to create your own Jerusalem Cornerstone. Combining words and painting you can create a unique piece of artwork that can serve as a symbolic reminder of the unbreaka
It makes a great conversation piece with friends and family and is an important lesson to transmit to the next generation - that no matter where we live in the world, Jerusalem is heart of the People of Israel.
This project can be done with people of all ages. For younger children, teachers/parents will need to make some minor adjustments.
DOWNLOAD
LOOKING FOR INSPIRATION?
Check our our Jerusalem-inspired micrography gallery!
We hope you have enjoyed using this resource. Your feedback matters. Please take a minute to fill out our evaluation form and help be as effective as possible in providing the resources and tools you need to make the personal Israel connection come to life, whatever the age, wherever you are in the world.
---
FEEL ISRAEL, THROUGH ART.