'Why be a soldier in the US when I can do it in Israel?'
By Michal Yaakov Yitzhaki
Descended from a long line of American soldiers, Josh Harris shocked his family when he announced that he was moving to Israel and enlisting in the IDF. Now in Israel, he says: "I am capable of one day becoming chief of staff."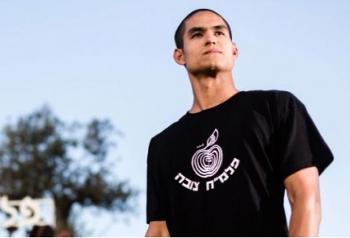 "A year ago, after a large family dinner, I got up and told my parents and my siblings that I had something important to say, and that I needed their undivided attention for a few moments," says 19-year-old Josh Harris, the sparkle in his eyes as evident as his American accent. "Everybody grew quiet, and listened. Then I told them I had decided to make aliyah to Israel and to enlist in the Israel Defense Forces."
It seems the Harris family was unready for the bombshell. This was a military family which had sent three generations of young men off to combat in some of the most elite units in the American army. Josh's father, Richard, is an American Jew who retired from the U.S. armed forces with the rank of lieutenant-colonel; his mother, Jackie, is a Christian of Korean descent. Josh Harris himself had recently been accepted into four military academies, and he was expected to choose one of them and continue on the life path his parents had planned for him since the day he was born. A four-year stay at the academy, on a full scholarship, would have given him a degree in the sciences, an officer's rank, and a starting salary of $3,000 a month.
But when Harris began to listen to that inner voice that kept telling him to immigrate to Israel, he did not hesitate. In one fleeting moment, he gave up on a life of relative comfort and amenities in favor of the IDF combat uniform. Within six weeks, aged just 18, he packed up his belongings in three suitcases, bid farewell to his family and friends in Virginia, and left everything behind. Last November, he relocated to Israel, alone.
"My mother constantly cried," he said. "She kept telling me how much she'll miss me. My brothers were in shock, but they totally supported me, and, surprisingly, so did my father. He told me: 'This will either be the dumbest thing or the best thing you'll ever do in your life, and I have a feeling it will be the best thing. I'll help you with whatever you need.'"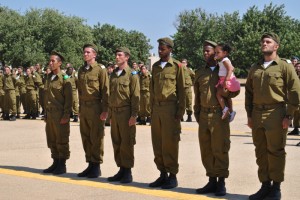 After nearly 10 months in the country, Harris already feels comfortable calling himself an Israeli. In three months, he will formally enlist. His goal is to gain acceptance into the elite Sayeret Matkal reconnaissance unit.
We meet at a cafe in Gedera, just two hours after he completed another day of instruction at the Hebrew-language ulpan at Kibbutz Tzuba, near Jerusalem. He has lived on the kibbutz ever since his arrival in Israel. He sports a U.S. Marines-style crewcut. His face reveals his Asian heritage.
Two IDF officers sit at a table nearby. Harris gazes upon them with admiration.
"Soon I'll be wearing that uniform myself," he said. "Inside, I feel that I am capable of one day becoming the chief of staff."
The ongoing war in Gaza, the rocket sirens, the rocket fire, and even the soldiers who fell in battle only heightened his motivation to enlist in the IDF.
"I was at the funeral of the lone soldier Staff Sgt. Max Steinberg, from the Golani Brigade, who was killed in Shujaiyya," he said. "I felt how powerful it is to be a part of this special people. In the United States, if somebody dies, people express their condolences and move on. Here everybody comes together like one family. Over 20,000 people came to a funeral of a soldier that they didn't even know. I stood next to his parents, and they were so moved. This is something that can only happen in Israel."
A boy from Springfield

Josh Harris was born on an army base near Springfield, Virginia, the fourth child of Richard and Jackie Harris. His parents met in Seoul, the South Korean capital, in the late 1980s, during Richard's tour of duty there. Immediately after Josh's birth, Richard was once again sent to Seoul, where the family lived for three years. Afterward, they moved to Germany, where Richard served as the military attache.

When Josh was 5 years old, the family returned to the U.S. Two years later, his parents divorced. Harris has three full siblings -- sister Alexis, 26, a brother whose name he declined to give, 23, and brother David, 21. He also has an older half-brother from his father's first marriage, James, 32, and three further half-siblings from his father's third marriage, all of whom have Israeli-sounding names -- Sheri, 10, Tamar, 8, and Yaakov, 5. His parents continue to maintain a good relationship.

Thanks to his father, Harris and his family celebrated all of the Jewish holidays. Josh himself was circumcised and had a bar mitzvah.

"Although my mother isn't Jewish, she also follows the Jewish customs," he said. "From a young age, I've been educated to love Israel."

"I grew up in a very strict military family, with clearly defined laws and boundaries that are never crossed. I was a very charming kid, but I had few opportunities to rebel. I didn't go to parties. I didn't go out with friends at night, and I never smoked. The things that were most emphasized at home were studies and athletics. In order to get into the military academy, I needed to get high grades and to stand out in sports, so this is what I've done all my life."
Captain of the rugby team

Harris did everything that was expected of him, and he did it by the book. The main goal was to get into West Point, the U.S. army academy. It was a goal he achieved. He studied taekwondo, eventually attaining a black belt. In high school, he was captain of the school's rugby team, leading it to the state championship twice. He also got into wrestling, eventually becoming captain of the school's team in that sport as well. As if that weren't enough, he also competed in track competitions. Predictably, he finished high school with numerous awards and commendations.

"God blessed me with a great many gifts that have helped me along the way," he says with captivating frankness. "I got high grades, I'm a stand-out athlete, and I have the ability to lead."

Despite the strictness of his upbringing, he has no criticism for his parents for the way he was raised. On the contrary, "it was this education that I received which has brought me to where I am today, and I am grateful to them for instilling in me the values of excellence, persistence, discipline, and, especially, love for the State of Israel. As I grew older, it became clear to me that I didn't see my future in the United States."

Harris' decision to make aliyah and enlist in the IDF was not a sudden one.

"I knew I'd be an officer in the military, but why be one in the U.S. when I can do it in Israel? Why shouldn't I perform a military service that is of significance and offers more value? Why not fight and help a nation of which I am a part and which I love so much? I felt that if kids in Israel are conscripted because it's mandatory, then it's mandatory for me as well," he said.

"I thought about it all throughout high school, but I made the decision a month before I was supposed to start my studies in the military academy. I knew friends who had immigrated to Israel and told me how good it was here. I went to the Internet and I began to watch clips about Israel and the army and the soldiers. I felt as if it were burning inside of me."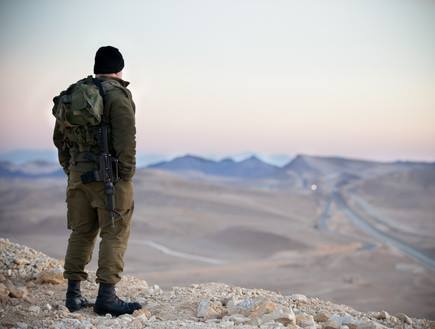 Were you surprised by the positive reaction from your family?

"From my vantage point, it was really like a miracle. I never expected so much support. My grandparents served as army officers during the Second World War. My uncle is in the military, my father served in intelligence and in the artillery corps in the U.S. military. My older brother, James, serves in the navy. My other brother, who is in line to receive a classified position, which is why I can't tell you his name, finished West Point two years ago and today serves in the artillery corps. My brother, David, who is 21 years old, is an officer serving on an air force base in Alaska. In fact, my sister, Alexis, is the only one not enlisted in the military."

Harris was brought to Israel by Nefesh B'Nefesh, a department of the Jewish Agency, and Garin Tzabar, the organization which operates under the auspices of the Scouts Movement. They worked in conjunction with the Immigrant Absorption Ministry. Aside from the 30 minutes of nervousness and apprehension during which Jewish Agency officials were late in meeting him at the airport, Harris' transition has been a smooth one. He had already received his blue identity card at the airport. From there, he traveled straight to the kibbutz ulpan, together with other newly arrived immigrants.

During the last 10 months, his routine has consisted of a full day of Hebrew instruction followed by a full day of work on the kibbutz. On days that he went out into the field, he was tasked with gardening and maintenance work. Every morning begins with conversations about the latest news. Once a month, the students are taken on a trip.

"The instruction was quite intensive," he said. "Every day, it would last eight hours straight. It wasn't easy. At the end of the day, I had a lot of homework that I needed to get done. Even the work I did out in the field, under the sun, was hard, but I'm not pampered. It gives me a good feeling, a sense that I did something useful. Look at how many blisters I have on my hand." He smiles while showing me the palm of his hand, covered with scratches and marks.

During his first six months in Israel, Harris received 2,500 shekels ($720) from the Ministry of Immigrant Absorption. Currently, he has no income, with the exception of the 450 shekel ($130) stipend which he has received from the Jewish Agency since his arrival.

"I'm getting by in the meantime, even though my dad helped me a bit," he said. "All in all, I don't have a lot of expenses, because I don't have a lot of free time. Every week, I'm at the kibbutz. For the ulpan and for living arrangements, I paid a symbolic tuition fee of 5,000 shekels for the whole 10-month period, so it's really not that bad. We manage."
Loving shawarma

He spends what little leisure time he has in Jerusalem, where he meets up with his American friends who have already enlisted in the IDF.

"I really love the Western Wall," he said. "But I also enjoy just walking around in the Old City and eating shawarma. You should write that it's the most delicious food around, even tastier than falafel. I don't go as much to pubs and bars, because I don't smoke and I don't drink."
But that is the place to meet Israeli girls.

"Every once in a while, girls approach me, but I don't have time for that right now. I want to meet an Israeli girl who isn't always looking to go to bars and parties."

He immediately understood the Israeli mentality, although he is far less enamored with the local music. When asked what stands out the most among Israelis, he immediately responds: "The quick pace of life here, and the lack of patience that people have, but I love it. It befits my personality. When I visited the U.S. just recently, I got really annoyed standing in line quietly and patiently. I needed to constantly wait and wait. Here, everything is quick, the way it should be."
Have you experienced any personal crises since arriving here?

"Not really," he said, laughing. "Although I do miss my mother's cooking and mint-flavored chocolate, which you can only get in the U.S. But my life is entirely here. Two months ago, I flew to the U.S. for my brother's graduation ceremony at the Air Force Academy in Colorado. As much as I thought I missed the U.S., when I was there, I just wanted to go back home to Israel."

Garin Tzabar is bringing nearly 100 American youngsters to Israel just prior to their conscription. They will join another 230 youngsters who are already here. In the next three months, they will be put through an expedite absorption process that will include a truncated Hebrew-language ulpan. In November, they will enlist.

The Garin program monitors the youngsters from the moment they are spotted abroad. It helps them prepare for the move to Israel and their Hebrew studies, and it also assists them in the enlistment process as well as during their IDF service. Recently, the organization also introduced a program geared toward adults who completed the Garin course and need help in settling in Israel, either through finding work, earning an academic degree, and even finding love.

Harris is currently in the process of moving from Kibbutz Tzuba and into a spacious apartment in Raanana, which he received rent-free from the Garin Tzabar throughout the duration of his military service. He will be living there with three other youngsters from the U.S. who made aliyah together with him in order to enlist. He will continue his Hebrew studies in an ulpan in Raanana until his induction date.

"As the date gets nearer, I just get more excited," he said, his eyes once again sparkling. "I can actually envision the uniform on my body, the red boots and the red beret on my shoulder. In order to enlist in the paratroopers, I need to reach a certain level of proficiency in Hebrew, so I plan to work hard in ulpan for these three months. I also need to take a physical exam, but I don't anticipate any unique problems there. Overall, I'm in excellent shape."
With the current situation not being so easy, aren't your parents scared?

"Even if they are, they wouldn't tell me. They know someone's looking out for me. They say that if they caused me to leave the house and my family in the U.S. and immigrate to Israel alone, then apparently I have a much larger, more important function to fulfill here, so nothing could really happen to me. I also feel this way. I'm not afraid at all."
Have you considered that you may not be able to withstand the rigors of your military service?

"That option doesn't exist for me. It just doesn't exist. When I was in the U.S., I took part in a pre-draft preparation camp that was run by the Marines. These are very intense trainings, both physically and mentally, and so I think I know what to expect. Besides, much of the difficulty is psychological. I know that I'm very strong. Don't forget that growing up with a dad who was a commander in the military also had its effect."
Will you try to convince your family to follow in your footsteps?

"It's always been my mother's dream to make aliyah. I very much hope that she will come here soon. My father and my brothers are also starting to think about the idea seriously. As for my younger brothers, I have no doubt that one day they will enlist in the IDF. They're already talking about it."
---
How do you share your IsraelLove?