ELIE WIESEL MEMORIAL DELEGATION OF THE MARCH OF THE LIVING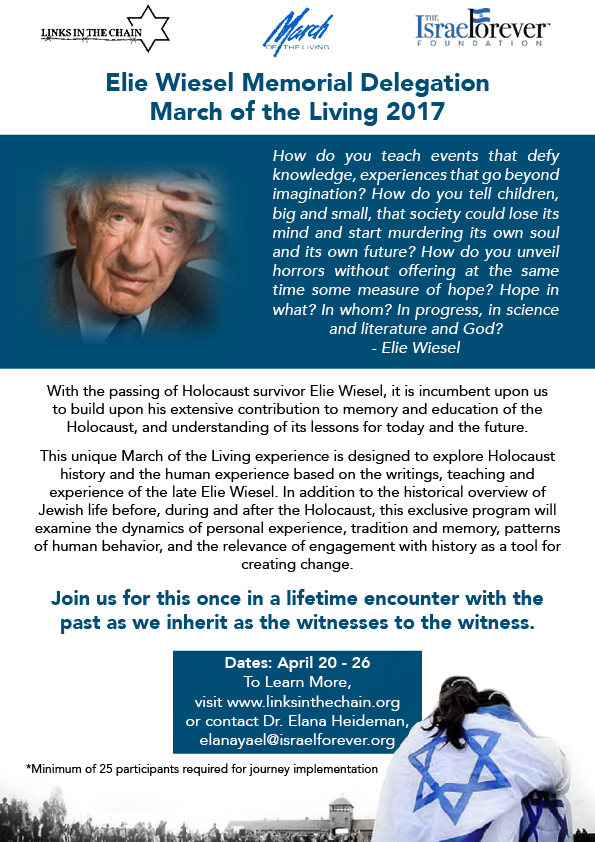 CONCEPT/FOCUS

---

This unique March of the Living experience is designed to explore Holocaust history and the human experience based on the writings, teaching and experience of the late Elie Wiesel. In addition to the historical overview of Jewish life before, during and after the Holocaust, this exclusive program will examine the dynamics of personal experience, tradition and memory, patterns of human behavior, and the relevance of engagement with history as a tool for creating change.
COST

---

Poland only and round trip flight from US (NYC - Poland – NYC) $4650

Poland and round trip flight from Israel (TLV - Poland - TLV) $3650

Long program (NYC - Poland - Israel - NYC) $6790

Cost of land for Poland only (no flights) $2900
JOURNEY ITINERARY

Proposed and subject to change

Thursday April 20
Arrival into Warsaw
Polin Museum, Rappaport Square - Jewish life, Tradition, Inheriting Memory
Kasimierz Dolny - Chassidus, Celebration and the Souls on Fire Drive to Lublin (overnight)
Evening Program: The Purpose of Memory

Friday April 21
Yeshivat Chochmei Lublin and Old Cemetery - Legacies of Learning
Majdanek - Manufacturing Death
Sbilitowska Gora – How the Killing Pits were Possible
To Krakow - Shabbat Preparations (8pm Candlelighting) 
Oneg Shabbat and Evening Program - A Window into the Past - The Yiddish Tish

Saturday April 22
Kasimierz Walking Tour: Echoes of Life and Dignity
Galicia Museum - A Stranger in a Strange Land? Jewish identity, Jewish leadership
Evening Program: Survivor Testimony and Auschwitz Preparation

Sunday April 23
Auschwitz-Birkenau – Young Eliezer in the Barracks "Absolute evil"
Evening Program: Special VIP event

Monday April 24
Krakow Ghetto Square
Buna Monowitz memorial - "Not all victims were Jews, but all Jews were victims." 
MARCH OF THE LIVING
Evening Program: Inheriting Wiesel's Legacy – Steps toward the Future

Tuesday April 25
Closing event and departure

*Optional touring on Tuesday will be determined by flight schedules

**Israel component also available for interested participants
GOALS

---

Intimate exploration of the life and legacy of Elie Wiesel
Consideration of Jewish identity as a factor in the Jewish experience during the Holocaust
Utilizing key aspects of Wiesel's teachings to encounter the ruins of Jewish life through memory
Examination of the survivor as educator and their legacy to the world
Analysis of Wiesel's writings and messages relating to the transmission of Holocaust memory
EDUCATOR

---

Dr. Elana Yael Heideman is a Holocaust scholar, expert on Antisemitism, Zionism and Jewish identity, who currently serves as the Executive Director of The Israel Forever Foundation. She earned her Bachelor degrees in Jewish History and Psychology at the University of Maryland College Park, continuing her academic studies at Boston University where she received her Masters of Education in Curriculum Development and Teaching with a focus on both formal and informal Holocaust education.

Elana studied with Professor Elie Wiesel for over 11 years, and was awarded her PhD in Holocaust Studies, Phenomenology and Memory in the esteemed University Professor's program based on her doctoral thesis, "Momentary Survival: A Phenomenological Exploration of the Transformation of the Human Condition in the Holocaust Experience."

With over 25 years of experience in the transmission of Holocaust memory, Elana has lectured to countless audiences and has crafted hundreds of educational programs, activities, memorial ceremonies in addition to her uniquely-crafted heritage journeys through Eastern Europe for international groups of all ages.

Her personal connection to Elie Wiesel will serve as an inspiration to all participants on this exclusive March of the Living delegation.


---
Recommended for you: