From Ideas to Action: Following the Footsteps of Herzl
By David Matlow
Herzl had an idea. An idea that stemmed from the dream perpetuated generation after generation, an idea that was seemingly impossible to fulfill.
In the midst of virulent antisemitism in cultured Europe, Herzl's idea was that the Jewish people should have a home, where they can be safe and fulfill their collective potential. Many had proclaimed and written and prayed and cried out for the ancient dream of return to be fulfilled, but the fervent resolve of a man determined to fight for freedom, justice and an exemplary society for Jews in their homeland brought that ancestral hope to life.
A lawyer, playwright and journalist, Herzl applied all of his skills to help make his idea a reality. The mark of a true leader, he remained steadfast even in the face of ideological and political adversity. He explored alternative options, some even highly disagreeable, but he was committed: the Jews would have a home in our homeland.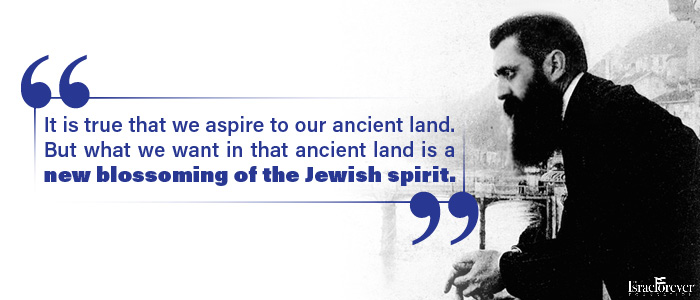 When Herzl came up with his idea in 1896, people thought his idea was ridiculous, that it was a pipe dream, a whim, an illogical concept that could never come to life. A little over fifty years later, in 1948, the idea became a reality when the State of Israel was born.
Many young Jews are unfamiliar with Herzl, or know nothing more than his name. They do not recognize the adversity he faced in making those first steps toward statehood and the reestablishment of Jewish sovereignty in our ancestral homeland. It is our job to make sure they remember and live the legacy of this great leader and visionary.
I have been fascinated by Herzl almost my entire life. I am amazed at what he accomplished in his 44 year lifetime. I am in awe as to how he was able to motivate the Jewish people to work towards his goal. I believe we owe him tremendous gratitude for all of his efforts on our behalf, and that he continues to be an inspiring role model for our time.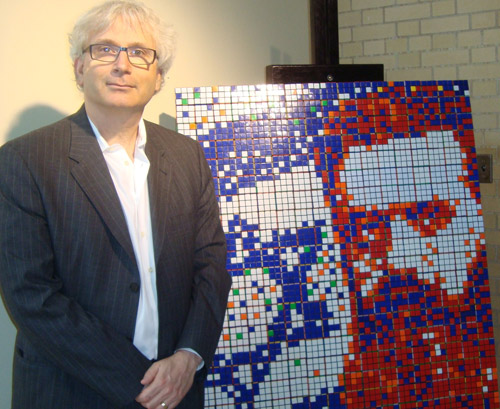 My fascination led me to collect items connected to Herzl, which after 25 years of doing, has enabled me to amass the world's largest collection of Herzl memorabilia (over 5,000 pieces!). I exhibit my collection and speak about him regularly to groups of all ages. In my travels I have always been impressed with the passion that people have for the State of Israel, and with their care and concern for its future. Our young people especially have much to say.
It is our turn to explore the visions of the next generation. To hear the ideas that you believe will shape the future of the Jewish people at this important time in history.
With hate against Jews rising again, we can all gain inspiration from the leaders of our past. The responsibility to address challenges with wisdom, determination and resolve now rests on our shoulders.
Toward that aim the Israel Forever Foundation, in partnership with supporting organizations who share the dream of carrying on Herzl's legacy to the future, has launched an international youth essay competition to hear your ideas, your vision, your hope and how Herzl is personal to YOU.
Essays will be judged by a distinguished panel, and winners will have an opportunity to present it at the 38th World Zionist Congress in Jerusalem in October 2020 and demonstrate their leadership and their vision as the heirs to a rich legacy that all of the Jewish people can be proud of.
Join us in sharing this important opportunity to foster youth innovation in thought-leadership and the Israel-inspired motivation of Herzl for today, tomorrow, and forever.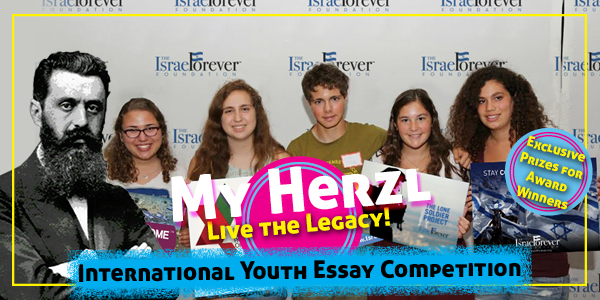 ---
Recommended for you:
---
Herzl's dream was partially fulfilled with the creation of the State of Israel, but it has not yet been completed. Come engage with one of our great leaders of Jewish history!

About the Author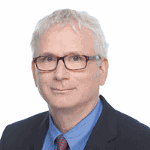 David Matlow is the owner of the world's largest private collection of Herzl memorabilia and is the producer of My Herzl, a 52 minute documentary by Israeli film maker Eli Tal-El. A partner at Goodmans LLP in Toronto, David is the immediate past chair of the Jewish Foundation of Greater Toronto and a member of the board of directors of the Ontario Jewish Archives and the iCenter for Israel Education.