Teaching and Learning About Herzl's Legacy
By David Matlow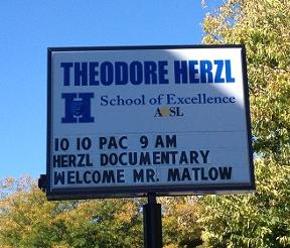 It was with great anticipation I found myself at the Theodor Herzl Elementary School in North Lawndale, Illinois, a suburb of Chicago, talking to a group of African American grade 8 students about the founder of the Zionist movement.
You may ask why a corporate securities lawyer from the Goodmans law firm in Toronto, Canada was teaching these students about Herzl. The answer to that question is precisely what I taught the students: if you will it, it is no dream.
Herzl had never set foot in Chicago, so why 100 years after his death, was there a school here named for him here—in an African American neighbourhood?  

The Herzl school in Chicago was founded in 1915 when North Lawndale was a predominantly Jewish neighbourhood. With the passage of time, the demographics of the neighbourhood changed but the name of the school did not. I knew about this school because I own the world's largest collection of Herzl memorabilia, and included in my collection are a number of artifacts from the Herzl school.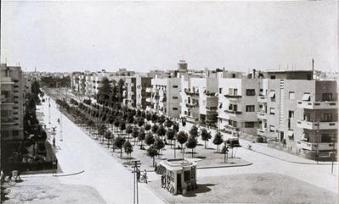 My passion for Herzl started as a child. My grandparents, Goldie and Archie Matlow, moved from Toronto to Israel in 1954. My family spent summers in their home outside of Tel Aviv during the 1960s and I became fascinated by a portrait of Herzl that hung in a prominent place in their living room. When my grandmother died in 1991 I asked for that portrait. That was Item 1 in my collection. I have since acquired 2,500 more.
I believe that there is much to learn from Herzl and his life, and that one way to teach people about Herzl is by exhibiting my collection. I have curated exhibits of Herzl memorabilia in synagogues and Jewish community centers in Toronto, Ottawa, Calgary and Edmonton, with exhibits in other cities planned.
However, as fascinating as Herzl is to me I recognize that there are only a finite number of people who will take the time to actually visit a Herzl exhibit. I wanted to talk about Herzl on a bigger canvas, so together with my brother-in-law Eli Tal-El, an award winning Israeli film maker, I produced a documentary film about Herzl.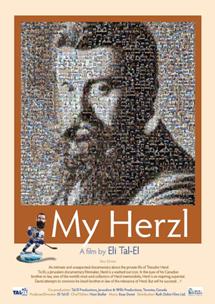 My movie is called, naturally, My Herzl. It is the most unusual film about Herzl ever made as it explores Herzl not from a linear biographical point of view but from the relevance of Herzl and his work today.
For the longest time, I thought I was the only Herzl eccentric out there, but in making the film Eli found that there were many others. All of us believe that an understanding of Herzl and the sacrifices he made are not of interest only from a historical perspective, but they are extremely relevant today.
Although Herzl envisioned the State of Israel as a place of refuge for the Jewish people, he was not concerned only with securing the land. He was also concerned with the kind of society that would be established on that land. Although Herzl's dream was fulfilled with the establishment of the State of Israel in 1948, his work is not yet complete. The work of creating the model society that Herzl dreamed of is ongoing.
As we try to depict in My Herzl, Herzl sacrificed everything for the State of Israel which we all enjoy. His life makes me ask myself every day whether I am doing all that I can for the things I believe in.
Herzl showed us that anything can change, and can be made better. All that is needed is the dream, and the fortitude to work hard to achieve that dream.
Which takes me back to North Lawndale. When My Herzl was selected to be screened at the Chicago Festival of Israeli Cinema, I asked Festival Director Cindy Stern to reach out to the Herzl school to see whether Eli and I could visit to talk to the students about the person who their school is named after. Herzl Principal Tamara Davis readily agreed, and there I was telling the students that in the same way that Herzl's dream of the State of Israel came true, their dreams can come true as well. All they have to do is will it.
The lessons of leadership are as empowering as they are timeless and universal.
It is an honour to have the opportunity to share insights with Chicago's future leaders and their teachers at Herzl School. Later that evening, these same students attended the screening of My Herzl at the Festival. They had learned about Herzl. My dream had come true. I have every confidence that their dreams will come true as well.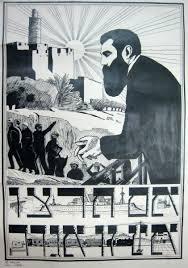 As I learned in my encounter with these bright young minds, Theodore Herzl, a visionary, a leader, a Jew, has the potential to be an inspiration for more than just our Jewish People.

How much more so should we embrace the lessons his leadership has to teach us?




Herzl's dream was partially fulfilled with the creation of the State of Israel, but it has not yet been completed. He showed us that if you do something, and don't just talk about doing it, you can achieve great things. His life is an example of how to use our energy, talents, and skills towards the things we care most about. Join me for a private virtual encounter, following a special online screening, where we will discuss how Herzl's life can motivate us to do all that we can for the things we believe in.

David Matlow is the owner of the world's largest private collection of Herzl memorabilia and is the producer of My Herzl, a 52 minute documentary by Israeli film maker Eli Tal-El. A partner at Goodmans LLP in Toronto, David is the co-chair, together with Andrea Cohen, of Toronto's 2015 Campaign for the United Jewish Appeal. You can read about their activities here.
---
Recommended for you:
---
MY HERZL: LIVE THE LEGACY

Explore the Connection Between Herzl's Legacy and the Commitment to Israel as a Jewish State today!
About the Author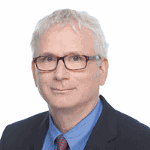 David Matlow is the owner of the world's largest private collection of Herzl memorabilia and is the producer of My Herzl, a 52 minute documentary by Israeli film maker Eli Tal-El. A partner at Goodmans LLP in Toronto, David is the immediate past chair of the Jewish Foundation of Greater Toronto and a member of the board of directors of the Ontario Jewish Archives and the iCenter for Israel Education.