The Israel Forever Foundation, the American Zionist Movement and Yad Ezra V'Shulamit
are honored to present
A Purim to Remember:
Celebrating Life With Survivors of the Holocaust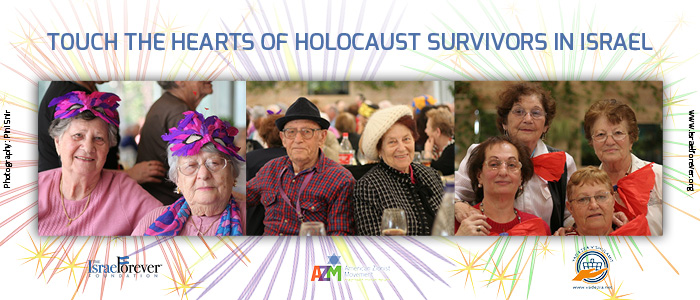 Every year on Purim, we exchange gifts with friends and family and gather to celebrate the joy of this special holiday.

This year, we are connecting Survivors of the Holocaust, descendants and volunteers in Israel to celebrate our history, our nation, our pride.

Together, participants will prepare mishloach manot to be distributed among our cherished survivors including those who are needy or without family or friends to help them celebrate this holiday of Jewish survival.
Touch the hearts of Holocaust survivors in Israel today!
Make a donation toward a Mishloach Manot gift
Every gift of $18 will provide one Holocaust survivor with a basket.

Send a message to be included and shared with survivors