Next Stop The Show
---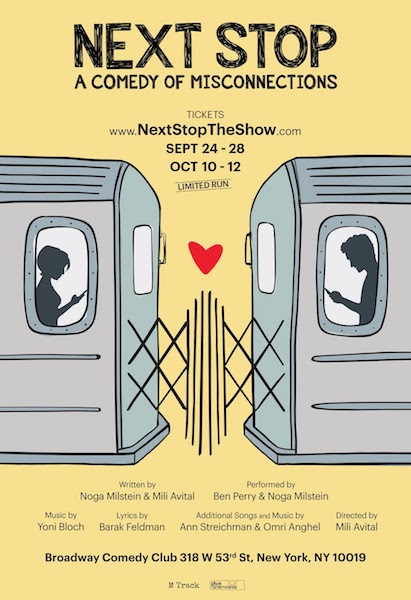 NEXT STOP, an original comedy with live music about cultural misconnections and crossed boundaries.
Next Stop has extended it's run again, and VCI is pleased to offer it's members an exclusive discount. See below for the promo code to receive a discounted price of $28 (normally $35 for September, and $45 for October shows!).
September Shows: 9/24 6pm, 9/25 6pm, 9/26 8pm, 9/27 8pm, 9/28 8pm. October Shows: 10/10 8pm, 10/11 6:30pm, 10/11 9pm, 10/12 6:30pm, 10/12 9pm
Hazan, a young "startup-ist", comes to New York to pitch his various business ideas. He meets Maya, a half-American trying to make it as a stage actress. We follow their respective pursuits in love and work in a city they think they know and a culture they think they understand.

NEXT STOP stars Noga Milstein and Ben Perry who transition seamlessly between the roles of Maya and Hazan as well as a slew of other New Yorkers.

Directed by acclaimed actress Mili Avital, NEXT STOP features a book by Noga Milstein and Avital, music by Yoni Bloch, lyrics by Barak Feldman, with additional music by Omri Anghel and Ann Streichman.

NEXT STOP is currently in performances at the Broadway Comedy Club (318 W 53rd Street) in the heart of Midtown NYC. An intimate cabaret setting, audience members are able to enjoy drinks and food from the bar at every performance.
Get $28 tickets by using discount code VCIDiscount