The Israel Forever Foundation presents
---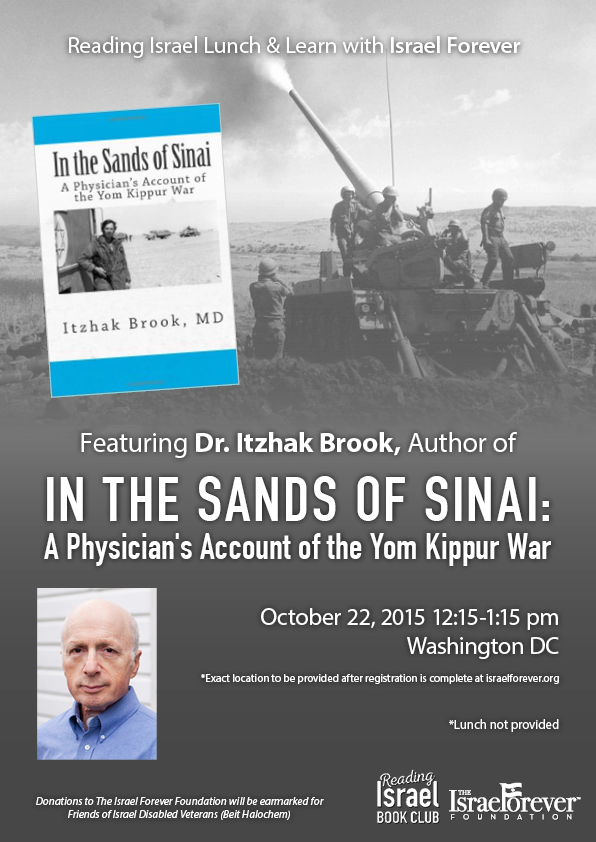 Reading Israel Book Club Lunch & Learn
Thursday October 22, 2015
12:15-1:15 pm
Washington, DC
Location will be provided after registration is complete
*BRING YOUR OWN LUNCH - LUNCH WILL NOT BE PROVIDED*
Advanced RSVP is required
Donations to The Israel Forever Foundation will be earmarked for
Friends of Israel Disabled Veterans (Beit Halochem)

Haven't read the book? Don't worry, Dr. Brook's story is inspirational and he would love for you to join him for this intimate discussion.
---
ABOUT THE AUTHOR:
Itzhak Brook, M.D., M.Sc., is a Professor of Pediatrics at Georgetown University School of Medicine in Washington DC. He was born and raised in Haifa, Israel and earned his medical degree from Hebrew University, Hadassah School of Medicine, in Jerusalem. He served in the Israeli army as a medic in the Six Day War in 1967 and as a battalion physician during the Yom Kippur war in 1973. Subsequently, he completed a fellowship in adult and pediatric infectious diseases at the University of California, Los Angeles, School of Medicine. He served in the medical corps of the US Navy for 27 years. Dr. Brook has authored several hundred publications in scientific journals and ten textbooks. He authored the books: "In the Sands of Sinai: A Physician's Account of the Yom Kippur War" and "My voice - a physician's personal experience with throat cancer."
---
EXPLORE ISRAEL THROUGH THE WRITTEN WORD

Click HERE to get started Reading Israel today!