In the Sands of Sinai by Dr. Itzhak Brook
---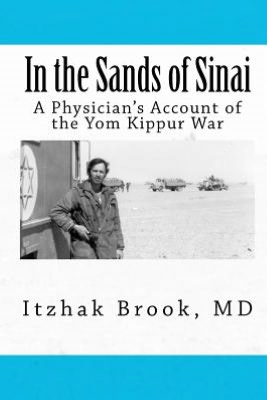 October 1973: A young physician in Israel prepares to celebrate the Jewish High Holidays with his wife and children. Suddenly a military invasion changes his life forever. This book chronicles the author's transformation from a civilian to a wartime doctor. In vivid personal details, the author Itzhak Brook, a veteran of both the Israeli Defense Forces and the United States Navy, recounts his first experience in war. He describes his own doubt and misgivings of being a physician facing the daily struggle of survival in the Sinai battle zone. Expecting to heal his soldiers' physical combat wounds, Brook unexpectedly must address his soldiers' battlefield traumas. In unvarnished details from the mundane to the catastrophic, he describes his perspective of a war that shaped his own life, and his nation's fragile identity.
Explore the personal reflection of one man serving in the Israel Defence Forces during the Yom Kippur War, the physical and psychological realities his soldiers had to cope with, the effect of religion on the soldiers, the cost of war in human life and suffering, and the daily struggle for survival in a difficult war which threatened Israel's existence.

---
The Impact of the Personal War Story
WHAT READERS HAVE TO SAY ABOUT In the Sands of Sinai
"Brook's book is intensely personal. He invites you to share his thoughts rather than describe battles. He starts with a wonderful description of his family's relationship with Yom Kippur, and the thoughts that go through his head as he hears the jet planes roaring above and gets called up for reserve duty. As he prepares himself and his unit to treat wounded soldiers on the battlefield, he describes the medical equipment they will be carrying, as well as his personal "Uzi" gun, which will keep him safe in the war, and the terrible irony of possibly having to fight and kill in order to save lives. He candidly discusses his feelings about going to war as a new father: this time it's not just about him anymore."
"It reads like a story that you can't put down. It is so well written that you actually get the feeling that you are next to the author as he confronts the daily trials of a physician during war. In spite of lacking the excitement of other books where bombs explode and bullet whiz all over the place, this book give us a good insight of a side of war which is not seen or shown to us, where soldiers, as real as those who execute raids and engage in aerial battles, fight and support other fighters in a war that is as real as war can be. "
"In the macho world of the Israeli Army, it was unmanly to admit fear. However, Dr. Brook quickly learned that this attitude was making it harder, not easier, for soldiers to cope with the stresses of war. And, from that moment on, he admitted to the soldiers his own fears. "It's okay to be afraid," he told them. And, in most instances, he observed their immediate relief."
"While never trained in psychology, Dr. Brook provides a fascinating story of how his own thinking changed about the relationship between courage and fear. He provides a compact background of the State of Israel, his own family and the political situation in Israel during that period. "In the Sands of Sinai" is not only valuable for medical professionals and students of war history but also for anyone who wants a better understanding of how to cope with the fear and anxiety of war."
               - Zev Primor, a veteran of the Yom Kippur War
"Told with the skill inbred from a culture that values oral history as a complement to the written word, Brook takes his readers for a ride rather than a read."
- B.F. Johnson, Cold War Warrior
"A major highlight is the chapter about "religion in war", in which he conveys his thoughts about two religious men who were in his unit. Without an ounce of condescension or cynicism, he describes how they gain strength and resolve from their prayers, and struggles with his own views on the role of religion throughout Jewish history and in the modern state of Israel. He also deals very candidly with many medical and ethical questions that are unique to war, for example, he tells the story of a supply driver who asks for valium to control his fear and nerves while driving supplies to the front lines. Should be give him the medicine to allow him to carry on with his duty even though it may impair his driving and put him in danger?"
"In the last chapter, after recovering from his wounds and moving to the USA, Dr. Brook tells of the difficulties of integrating into American society where people did not really want to hear his war stories, and were not necessarily as understanding as he expected of Israel's need to defend itself. Dr. Brook has obviously had an illustrious career as a physician and professor, but he still carries the toll of that war with him in his mind, and now, 40 years later, he has found a way to let us share in his most private thoughts and traumas. In terms of factual information, this book is a treasure. Its information concerning the effects of war in the psychic of Israelis is extremely insightful."
---
The Reading Israel Book Club's Book of the Month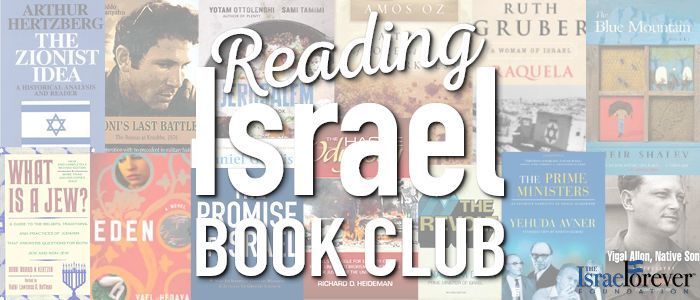 Every month, the Reading Israel Book Club at Israel Forever brings you a new literary delight to grow your Israel connection through the written word.

We hope that you enjoy our selections and participate in discussion not only with your friends and family but with an international community of readers in our open discussion group on Facebook.