Affirmation to Delegitimization: The UN Vote Then and Now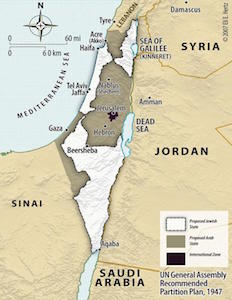 Sixty nine years ago, the United Nations passed Resolution 181, effectively voting into existence the re-establishment of a Jewish State in her ancestral homeland. Just as Napoleon, Herzl, Balfour, San Remo, and the League of Nations before them, they affirmed the legitimacy of Israel.

Today, hypocrisy and cynicism have taken over the United Nations as we witness UNESCO's promotion of historical revisionism. The lies and propaganda of the delegitimization perpetrators and Israel boycotters are growing in an attempt to demonize, isolate, and persecute Israel, her citizens, and her supporters around the world. How have things changed? What are our options for response?
In honor of this year's Kaf Tet November commemoration, The Israel Forever Foundation was proud to have sponsored a special event in Jerusalem last week, The UN Vote: Then and Now, in partnership with The Zionist Council in Israel/World Zionist Organization, and the Association of Americans and Canadians in Israel (AACI).

Organized and run by our Executive Director, Elana Heideman, over 250 people were in attendance, coming from Netanya, Raanana, Tel Aviv, Jerusalem, Modiin and Gush Etzion.
Opening remarks, delivered by Yaakov HaGoel, Vice and Acting Chairman of the World Zionist Organization, gave an extensive overview of the history of Zionism and the United Nations, highlighting Herzl's view of world bodies and their role in the establishment and success of a Jewish State.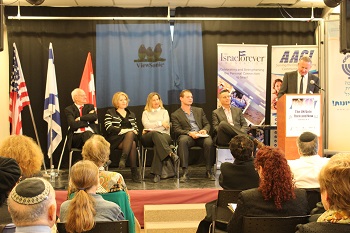 An expert panel, moderated by Steve Linde, former editor-in-chief of the Jerusalem Post, addressed the Importance of Public Diplomacy in Creating Social Action. Panelists included Asher Fredman, Senior Coordinator and Advisor to the Director General for Counter-Delegitimization Affairs Ministry of Strategic Affairs, Lt Col (Ret) Avital Leibovich, Director of the American Jewish Committee and former spokesperson for the IDF, Ashley Perry, former adviser to Israel's Minister of Foreign Affairs, Olga Deutsch, NGO Monitor European Desk Director, and Barry Shaw, Senior Associate for Public Diplomacy at the Israel Institute for Strategic Studies.
The diverse experiences shared by the panelist contributed to the enlightening, informative perspective and ideas each one shared and the audience welcomed the insight into the public sphere of diplomacy. They each highlighted how diplomacy has taken on a shape of its own as it relates to representing Israel to the outside world. What is said in private may not always be shared in public. Whatever obstacles may lay in our way can also be turned into assets. And the importance of relationship-building is shared in both the personal and political realms. But above all, it is creativity, commitment, innovation and an ability to utilize the facts, correct terminologies and the historical narrative that are the backbone of our legitimate historical rights.
During lunch, participants were invited to join Zipporah Porath, author of Letters from Jerusalem led Eyewitness 1947: Personal Encounter, as she shared her first hand account of the day of the vote here in Jerusalem. It was a moving experience and a compliment to the day's events.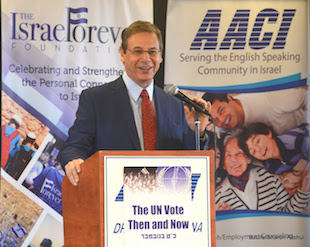 Keynote speaker, former Ambassador to the United States Danny Ayalon, discussed a variety of topics relating to the issues of affirmation vs. delegitimization in the realm of diplomacy. Building off his extensive career in navigating relationships and the public image of Israel on the international stage, Ayalon touched on the nature of the dilemmas facing the peace process that are based on the threads of delegitimization that are now dominating the United Nations and other social platforms.
Among the ideas he shared as to how to advance Israel beyond the demonization, boycott and delegitimization attempts, he emphasized the importance of social media as an avenue where all individuals can play a role. He outlined various steps required in affirming the path to a more constructive and peaceful future, steps that are not always comfortable but that we all must take ownership of and act upon.
It was toward this goal that the program included Building Action Working Groups met to explore action items to address each of the following issues, led by experts on the subjects who facilitated dynamic, informative engagement to the participants. Participants engaged in one of four topics:
Antisemitism vs. AntiZionism
Ashley Perry, Reconectar
Arsen Ostrovsky, Israeil Jewish Congress

Zionism is Racism
Peleg Reshef, The Jerusalem Foundation
Saskia Pantell, Swedish Zionist Federation

BDS and the Bias of Hate
Olga Deutsch, NGO Monitor
Barry Shaw, Israel Institute for Strategic Studies

UN and Jewish Rights
Alan Schneider, B'nai B'rith World Center
Jeff Daube, Zionist Organization of America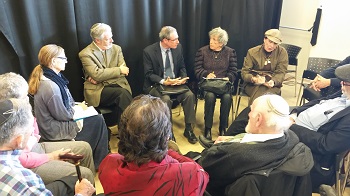 The action items designated by each group will be transformed into initiatives for personal activism in which individuals, groups, whole communities can get involved. As everyone agreed, the only path to successfully countering the continued attempts to divide and defeat us is to channel our energies into positive, proactive movements for creating the change we want to see take shape.
We at Israel Forever strive to make Israel personal for Virtual Citizens of Israel around the world as much as for those who have built their lives here in our ancestral homeland. It is events such as these - historical and contemporary at the same time - that enable us to explore the relevance of current issues to our own lives. All Jews - VCI and Olim alike - need the inspiration and encouragement to propel ourselves forward, and to consider how we can take an active role in advancing Israel's public image, public relations and public diplomacy in a more personal way, enhancing our social encounters, community engagement, and every day lives with Israel-inspired Jewish pride.
We each encounter opportunities to present our heritage, demonstrate our pride and our resolve. Being informed enables each one of us to take an active role in social and digital diplomacy, utilizing all the resources, platforms and passion available to us.

We have a voice that can aid those working to strengthen diplomatic ties between Israel and countries around the world, just as we hope to open the hearts and minds of all citizens of the world to understand and respect Israel as a nation, as a people, as a history, faith and future.
We look forward to sharing these opportunities so that we can all act upon our collective responsibility as Citizens and Virtual Citizens of Israel.
Photos of the event taken by Sharon Altshul can be seen HERE
---



JOIN our effort to remind the world that Israel was created with the full support of the international world!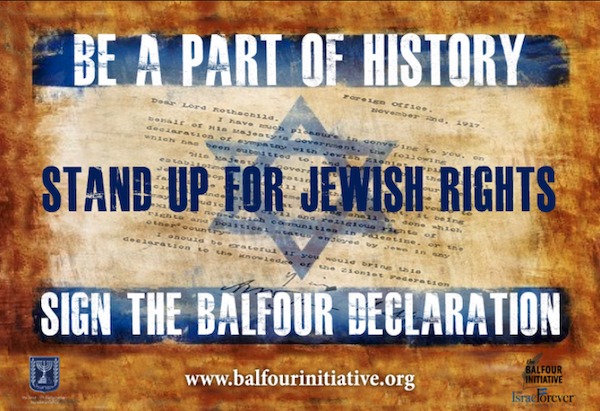 ---
Recommended for you:
---
JOIN A ONE OF A KIND GLOBAL JEWISH COMMUNITY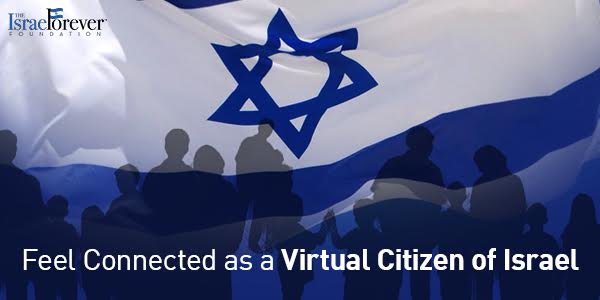 Take Action as A Virtual Citizen of Israel!