4 Million Bullets: The Untold Fight for Survival
By Jeff Hoffman and Divvy Ahronheim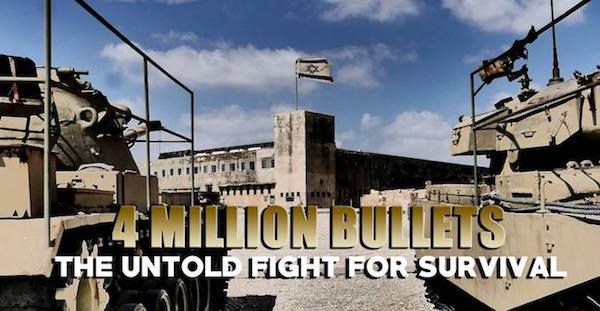 This year, we celebrate a major milestone for the state of Israel – the 70th anniversary of its founding. But there would be no anniversary for Israel to celebrate in 2018 had it not been for an extraordinary groundswell of mass heroism 70 years ago when everyday people from North America, South Africa, and Europe – young adults, former World War II soldiers, business people, Holocaust refugees, Jews and non-Jews – came together as volunteers in a spontaneous, largely improvised effort to establish a nation for the Jewish people.
Despite impossible odds and nearly insurmountable obstacles, they succeeded. Their stories are fascinating – and largely unknown. The Central American "banana boats" that evaded an international embargo to transport European refugees to Palestine. The elite fighters trained to act like Arabs and sent underground to infiltrate enemy areas. The covert group of North American Jewish business leaders who secretly raised the equivalent of $2 billion for the cause. The ragtag Czech war-surplus aircraft from which crew members dropped bombs by hand on their targets. The young Polish Catholic who left his comfortable life in Philadelphia to smuggle refugees and join an elite fighting force in the Galilee. The underground bullet factory that operated for more than two years hidden beneath a fake laundry shop and many, many more.
Many of these stories have gone untold for seven decades – until now. "4 Million Bullets: The Untold Fight for Survival" is a film that brings these tales of heroism and passion to life – often in the first-hand accounts of the extraordinary men and women who lived them.
4 Million Bullets is a compelling documentary detailing a pivotal but largely unknown period in Jewish history. It serves as a moving testimony to the audacity, courage, and relentlessness of "ordinary" people who were willing to sacrifice all to establish the state of Israel, and a fascinating saga of real-life covert operations and derring-do that rivals Hollywood action films.
By partnering with The Israel Forever Foundation, we aim to inspire Jews everywhere with these amazing stories, and to create a vital, much-needed educational resource to inspire and strengthen the bonds of heritage and faith that connect younger Jews to the nation their forebears fought to establish.
"The inspiration for making this film goes back a few years. I was looking at old 8mm reels my Zionist grandfather, Leo Quint (who immigrated to the US in the 1920's from Vilna) filmed while visiting Israel in the 1950s and 1960s. He owned an upholstery company in Newton, Massachusetts, and as a supporter of the nascent Jewish state, brought over his company vans to Israel, where they were converted into ambulances. These old film reels inspired me to learn more, and share the story of the birth of the State of Israel.
Heavily researching the subject, I began to comprehend the vast scope of Israel's foundation. I discovered how the Sonneborn Institute and the worldwide Haganah; the Irgun and Lehi, all combined to build a momentum, leading up to the war of Independence, where the defenders of the new state had a 50% chance of winning. I felt the story made James Bond movies pale in comparison.
When I recounted what I was learning to my friend, Dr. Steve Baratz, he suggested I research the Machon Ayalon munitions factory. I was inspired by the bravery, courage, ingenuity and above all, resourcefulness, of the young men and women who manufactured munitions in a small factory hidden beneath a bakery and laundry complex. That's when I realized this was an incredible story that needed to be told.
Researching the veterans of the War of Independence, I contacted Jewish veteran associations, directly reaching out to the veterans, asking to interview them on the subject. Combining my background in cinematography and documentary work, I filmed these veterans and refugees in both Canada and the United States for two reasons: First and foremost, their heroic stories have gone untold and needed to be shared with the world. Secondly, these veterans are approaching their late-80's and mid-90's, thus time is of the essence.
Through contacts in the Montreal Jewish community, I connected with Divvy Ahronheim who became co-producer of the film. A decision was made to visit the locations where these events took place. Traveling to the Czech Republic, Germany, Switzerland, Canada, Florida, and, of course, Israel, we conducted interviews with people who actually lived through these events. We filmed many of the places they described to us.
I am honoured by the support we have received from hear and far. All of the crew who came on board to help make the film joined the project simply out of their passion for the subject. In addition to the contributions of individuals, we have received letters of support from diplomats, educational institutes, war veterans of Israel, refugees, film festivals, Evangelical Christians, and members of the Jewish faith---who believe these heroic stories are important to share with the world.
Our goal is to educate Jewish youth about their history and this largely untold story as well as to make this legacy available to future generations. Our audience is worldwide. The film will be in festivals and libraries the world over and available to schools and universities on cable and the internet.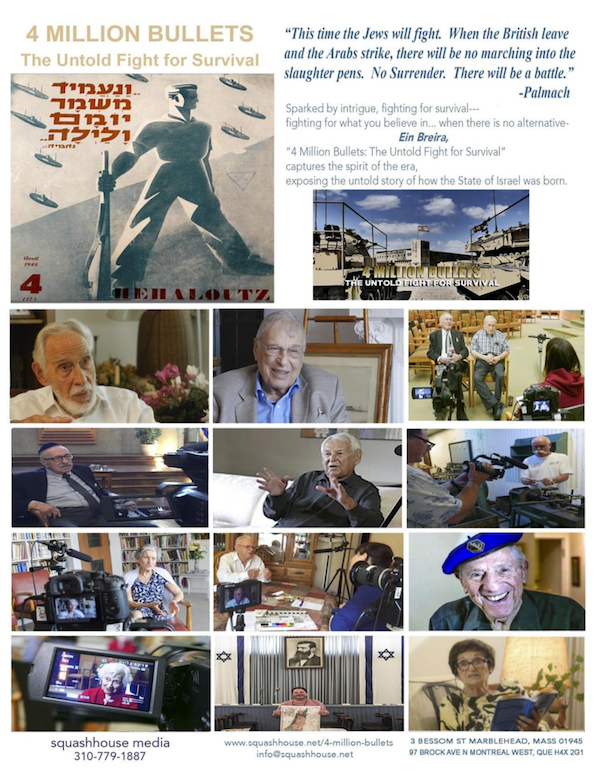 With the 70th anniversary celebration of the declaration of the State of Israel, now is the perfect time for the voices of these brave men and women to be heard. It is our responsibility to make sure their stories are never forgotten, and continue to pass from generation to generation.
Jewish youth need their spirits energized; there is a world-wide audience waiting for this film. We are asking for your help, as we trust you feel strongly about Israel and see the value of our legacy project. Please consider supporting the film in any amount with a tax-deductible donation through our educational partner and fiscal sponsor, The Israel Forever Foundation.

---
ISRAEL MEMORY PROJECT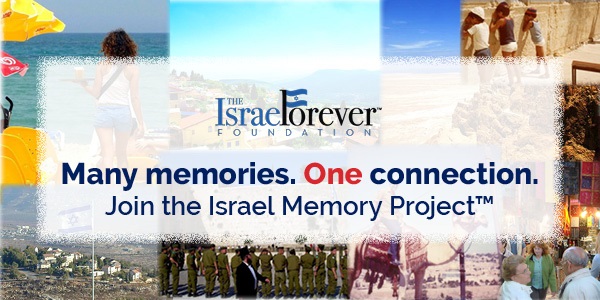 About the Author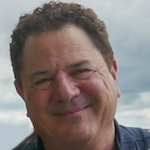 Jeff Hoffman has worked internationally as a producer/director and cinematographer, from Antarctica to Easter Island, as well as the Far East and Europe. His extensive credits include feature films, documentaries, television and commercials. "The Corporation" (most successful documentary in Canadian history); "Ayn Rand: A Sense of Life" (Academy Award nomination for best feature length documentary); and Steve Laffey's "Fixing America Movie," are among his acclaimed documentary credits.
---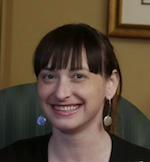 Divvy Ahronheim's connections to Jewish life and Israel have fueled a passionate career in education, and now filmmaking. Fluent in French, English and Hebrew, with a background in Jewish Studies from McGill, Divvy also earned a Master's in Jewish Education. Her connection to Israel is not only personal—having visited many times—but historical, as a descendant of the founders of the town of Rishon Letzion. Her expert knowledge has impacted the interviews of "4 millions Bullets" with a uniquely compelling tone.