An Israel Challenge
By Jill D. Myers
This past October my sister and I participated in a five day Wheels of Love bike ride to raise money for ALYN, a pediatric rehabilitation hospital in Jerusalem. Wheels of Love celebrated its 14th ride, and they have quite a following: people come back year after year, combining their passion for cycling with their passion for Israel.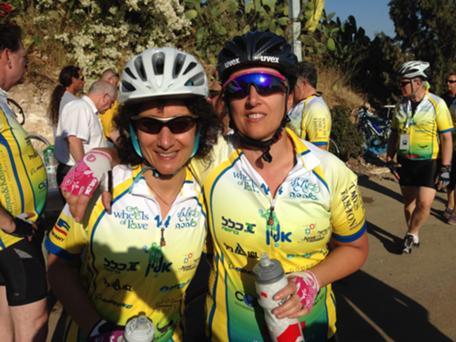 Thirteen different countries were represented. Most, but not all of the riders were Jewish. A lot of the participants had family connections in Israel. Many riders were in their 50's-60's. There were different levels of cycling including an off road ride, challenge ride (fast & far), touring rides (where you biked in the morning then toured - winery, kibbutz, Golan Heights, etc) and the regular on road ride which I participated in.
We started in the north at the Mediterranean Sea, rode across to the city of Tiberias, rode around the Kinneret, then south ending in Jerusalem. The local police escorted us throughout the ride and as we would round the bends of the roads, the landscapes would change. The sites included beautiful green JNF forests, open farmland, the Jordan Valley and the everyday sites of Israel in between.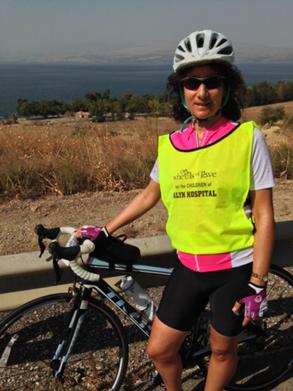 One day I'm riding the hills of Potomac, Maryland, the next day I am on the main highways of Israel. I had to pinch myself to believe I was truly doing this!
I had not been to Israel in 20 years. I didn't go to any museums or typical sights this time, rather saw the everyday country where Israelis live and work. I saw the cities, produce growing on farmland marveling at the amazing agriculture being grown in a desert!
On the ride website were explanations of where we were going each day and what the historical significance of the places we rode through was. Honestly I focused on the people I was seeing, how the houses looked, all the signs in Hebrew.

It was so surreal to be riding my very own bike across the Land of Israel.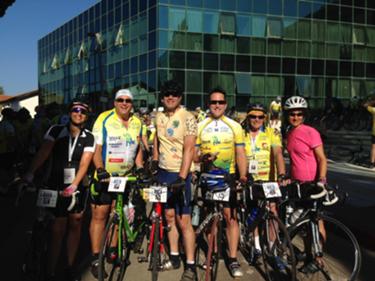 I hardly kept in touch with anyone from home during the ride except the people I was with. I felt like I was in a different reality. I had the feeling of 'this is the home of the Jewish people.' It was very different from our local Jewish community at home.
When you travel to other places, you are out of your element but in Israel it is a completely different experience. I felt connected in a way I don't in other places around the world.
Before the ride we spent Shabbat in Jerusalem. We went to the Kotel for Kabbalat Shabbat which was an incredible experience. We signed up to be hosted for Shabbat dinner by a fellow rider who lived in Jerusalem.
We arrived at the Kotel just as the sun was setting. There was a group of young women IDF soldiers in fatigues. They were singing together next to an Orthodox woman who was leading a larger group. I joined in, arm in arm with the women around me. Where else in the world would you become like one with your fellow Jews? It doesn't happen anywhere else in the world.
We had dinner with a family from England who had made Aliyah. They welcomed us in because that's "what we do." We open our homes and our hearts to each other. After the ride we went back to Tel Aviv where I had a deja vu experience. When I was 16, visiting Israel one summer with USY Pilgrimage, I spent a weekend at the home of my Israeli aunt's parents and I was now back walking on the same street. I knew I had been there before, many years ago. We also met up with a childhood friend for dinner and walked the streets of Tel Aviv, to the memorial of Yitzhak Rabin, walked to Jaffa and all along the Tayelet. Wow, had Tel Aviv changed!
We went on this ride with 4 other people from our community. Each of us had a different reason why were challenging ourselves on this difficult ride.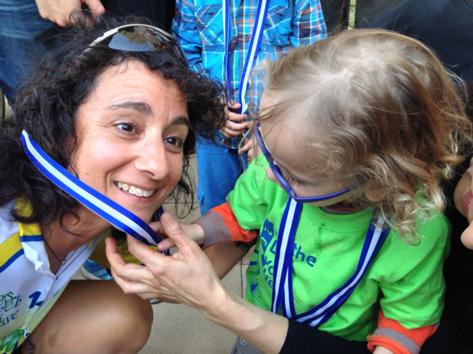 For me the ride was about having an opportunity to do something in Israel for Israel. Call it a mid life crisis, as I felt it was time I do something that challenged me. I set a goal and I dreamt about actually doing this. I had participated in a short local ride previously for a woman living in Israel battling cancer. After that, I wanted to bike more and do SOMETHING.
When I heard about this ride, I thought hmm, maybe I'll go. The more I trained, my sister caught on and said "I'll go too". Then it became a reality. Our team emerged and together we raised over $50,000 for ALYN. I personally raised $4,000.
Who knows what my next trip to Israel will look like. It will probably be a very different experience as I like to try new adventures. I am proud of my accomplishment and thankful for the opportunity to travel to and within Israel in such a unique way that allowed me to really see much more of the country from the seat of my bike, instead of from the inside of a tour bus.

Am Yisrael Chai!
---
Recommended for you: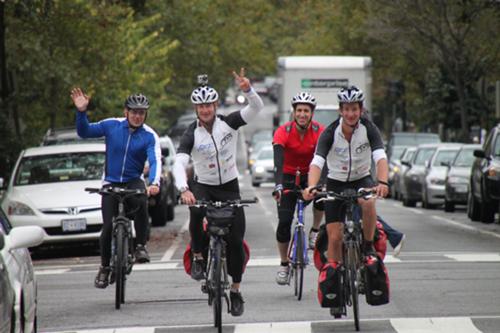 Washington Jewish Week
---
STAY CONNECTED NO MATTER WHERE YOU LIVE