Lone Soldier: Training for a half-marathon
by David Besnainou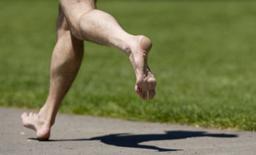 Barefoot running is an alluring concept, I tell myself. Exploring the back roads of Suburbia in five-finger shoes seems like a forward thinking venture! Why stick to the ordinary when I can become extraordinary? Why limit myself to running in clunky, bi-pedal contraptions, when I can learn to travel with felicity and glee?
In this spirit, I am overtaken by confidence and slip on rubber slippers to spree for five miles. Once I finish my run, I discover a sprained toe - a limp lump dangling from my foot.

This impediment reminds me of the many setbacks of lone soldiers. I realize that the more the odds are stacked again them, the more they seem determined to shine.
Like an intrepid lone soldier, I refuse to be thwarted by this injury.
Even though running now triggers acute pain throughout my foot, I decide to continue training and building endurance on elliptical and cycling machines.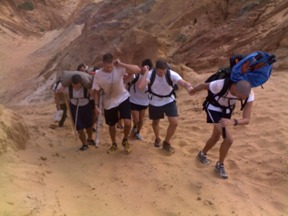 Many lone soldiers do not speak fluent Hebrew when they move to Israel. They must attend an Ulpan to learn Hebrew before becoming eligible to start training for the army. They live far away from their families and cannot connect with close friends about the emotional whirlwind they experience. They miss out on engagement parties and delay professional careers.
But Lone soldiers fight for a cause many of their friends do not relate to. They courageously defend Israel while many of their peers meet traditional coming of age milestones.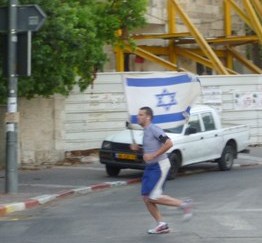 Setbacks are numerous and the road to becoming a soldier is long and testing. As I continue to prepare for a half-marathon, I am determined to train hard despite a minor injury. I am inspired by the courage of lone soldiers and welcome this obstacle as it allows me to sympathize with a fraction of the daily hardship they endure.
Are you interested in joining me? Come and run this race, or create a challenge of your own in support of IDF Lone Soldiers and The Lone Soldier Project!
---
Recommended for you:
---
SUPPORT LONE SOLDIERS ON THE FRONT LINES