Ahava Art
AHAVA (אהבה) in Hebrew means LOVE in English.
We all need to feel a little more love these days.
Love is a very deep emotion. There are different types of love, and each of them have their own meaning and perspective. There is love that we feel within ourselves for ourselves, there is the kind of love that we decide to extend to other people, and there is also the love that we feel from other people. There is even the love we feel for certain places, experiences, or causes. All of these are equally important. There's a saying, and a song, "All We Need is Love" that has always resonated within me.
I feel as though the more we love ourselves, the more we exude a feeling of happiness and love to other people. And the more love we feel, the happier we feel inside our hearts and our heads. To me, life is happier and easier when we share our love and spread feelings of happiness and love to other people.
Since most of us are still under quarantine, and all of us are practicing social distancing when we do venture out into the real world, we thought it would be nice to create some unique art that is filled with LOVE and happy vibrant colors.
Below are samples of images of what some other artists have created with the word Ahava (Aleph, Hay, Vet, Hay)/Love in either English, Hebrew or both. The artists own the rights to their artwork, and we are NOT permitted to copy these images. We are only permitted to get inspiration from their artwork in order for us to learn how to create our own version.
Study these images and decide which elements from each one you like. Just like with everything else in life, practice makes perfect. This is an art project that will also help you practice your Hebrew writing skills. Begin by drawing or writing the letters like you learned in school, and then turn your letters in the big fat bubbly letters of varying degrees. It's totally up to you how you choose to write and decorate your Aleph, Hay, Vet, Hay letters.
The goal here is to learn that Ahava means Love, and how it is spelled (Aleph, Hay, Vet, Hay). You design your Ahava art however it pleases you the most. There are sample images that depict bold vibrant colors with big block letters, and others that are delicate flowery designs. You are the artist, so you decide how you want your letters to be, where you want your letters to be, as well as what kind of artistic elements of color, pattern and design you would like to incorporate into your artwork.
SUPPLIES NEEDED

Sketch paper (for planning)
Paper, cardstock, canvas, etc. (for final artwork)
Pencils, erasers, pencil sharpener
Coloring/painting materials (colored pencils, pastels, watercolors, paints, etc)
Colored paper/construction paper, scissors, glue/gluestick

STEPS

Peruse sample designs to get inspiration. Feel free to also search for "Ahava art" images on your own for more inspiration/ideas
Begin sketching your ideas on white paper. Sketch lightly so you can erase your lines if you need to, and don't be afraid to start over, make different versions, or play around with the placement of your letters.
Make a color plan by mapping out the colors where you want them to go.
Draw your final copy onto cardstock, canvas or whatever paper you choose. If you are using paint or watercolor, make sure you use the proper paper that will withhold the paint.
Add your color: Allow your emotions to flow as you select colors for the different elements of your art. Don't feel limited to only one set of colors, or one pattern.
If you choose to cut and paste colorful paper to make a paper collage, then you will simply cut the colored paper to the size and shape you want it to be and glue it down wherever you want.
Sign & date your artwork (see below how to share it with other Virtual Citizens of Israel!)
Hang it up and smile cause "You're an artist!"
Email a photo of your artwork to Stefie@ArtEscapades.com for us to feature you in an article about our B'nai Tzedek Judaic artists.
---
Recommended for you:


---
FEEL ISRAEL, THROUGH ART.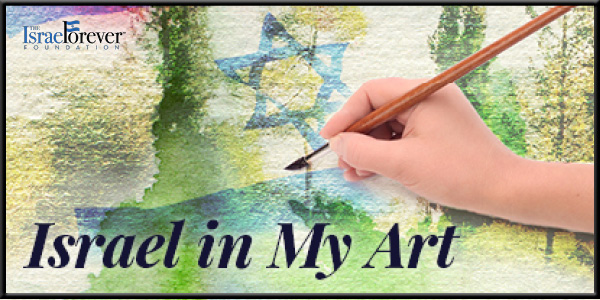 About the Author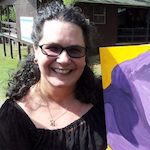 Stefanie Jo Heideman, founder of
Art Escapades
, is an art educator who believes that art is not supposed to be competitive, but rather a peaceful, relaxing experience for one to engage in and enjoy. As the Arts and Education Specialist for Israel Forever, Stefie is able to weave her love of Israel into her projects and lesson plans for individuals of all ages and stages of life.