Buying And Selling In The Shuk
By Amy Zitelman
When people ask me what I love about Israel, I tell them about being on the beach and partying in Tel Aviv, praying at the Western Wall in Jerusalem, hiking up Masada, floating in the Dead Sea, adventures in the Golan Heights and snorkeling in Eilat. I tell them about how world history has made its mark there too many times and about the Israeli technological inventions that are making history today.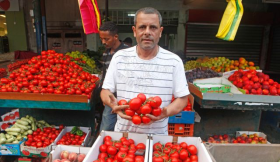 What I also never fail to mention, though, are the tomatoes. I once heard a great quote: "Some people go to Israel for the history or the culture or the religion…and some people just go for the tomatoes."
Though I don't just go for the tomatoes, they are up there on my list. In fact, one of my favorite things to do in Israel is to go to the shuk (market) for tomatoes and all kinds of fresh produce.
I love walking through the stands, hearing vendors yelling, "Agvaniot (tomatoes), 5 shekel. Melafefon (cucumber), 3 shekel. Avatiach (watermelon), 10 shekel."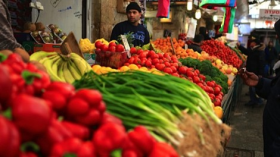 I love that the vendors tell me where the fruit came from and when it's in season and that they always let me try it first. I even love the inevitable five-minute conversation about their brother's son who is my age or how they would like personal English lessons.
Ultimately, though, if I like the vendor and the product, I buy it. If not, I can always move on to the next stand. I often joked with my friends about how much I'd enjoy selling at the shuk. I could talk about fresh, delicious fruits, vegetables and so many other topics all day long with strangers, acquaintances and maybe even friends who would stop by. I couldn't be happier.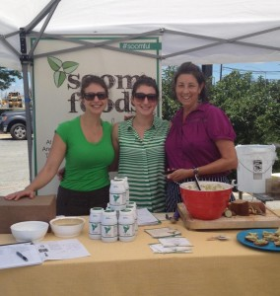 I got to do just that!

Soom Foods was at Central Farm Markets, farmers markets set up in Rockville and Bethesda every weekend. Of course, it's nothing compared to the shuk in Jerusalem—or my favorite in Netanya, Israel—but there are local farmers and products, tables set up and sweaty people interacting with each other.
At Rockville's Pike and Rose Central Farm Market recently, we had the honor of collaborating with Chef Lynn Foster, a long-time local chef. Lynn was inspired by our tehina to make a delicious, summery dish for the market patrons to enjoy. Drawing on the fact that tehina is traditionally used for hummus, Lynn lightened it up a bit by replacing the chickpeas with edamame and fresh peas and adding fresh ginger.
Although selling at the markets makes my weekend mornings start early—and sometimes in temperamental, tropical DC weather—I love standing behind a table and channeling my inner Israeli shuk vendor…giving samples, speaking loudly and completely engaging with the consumers.
Click here for the original blog post and for more posts by Amy Zitelman.
---
Recommended for you:
---
STAY CONNECTED NO MATTER WHERE YOU LIVE