Celebrating the fruits of the land on Tu b'Shevat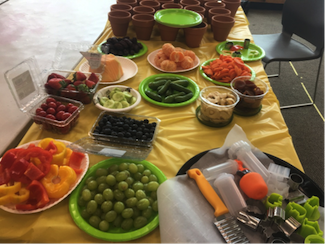 Tu B'Shevat is a reminder that among rows of processed products in the supermarket, Hashem has provided us with all the tastes we need, in natural and delicious forms. We have salty olives, sweet dates, and crunchy almonds. Scientists now tell us that some of the specific fruits of Israel, such as grapes and pomegranates, are especially good for our health and longevity.
Tu B'Shevat also reminds me of the distinctly non-agricultural Jews coming to Israel and using their ingenuity and sweat equity to reestablish the fruit of the land. They were not receiving shipments of varied produce from around the world. They grew food to both illustrate their ties to the land, but also because they needed to literally live off the land. They needed food to eat. Let us not forget the amount of effort that took and also appreciate the renaissance of Jewish farming taking place currently in the United States.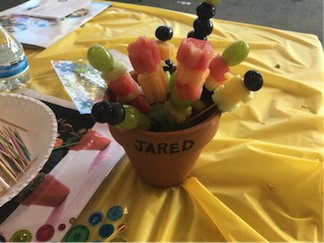 In the United States we are more likely to encounter a spread of chips and pretzels, than the traditional Israeli salatim (salads). Experiencing the plethora of real food served in Israel is a pleasure, as are the markets full of colorful fruits, vegetables and spices. We want to remind children what real food is and help them enjoy it.
One way to do this is to let them make their own creations in honor of TuB'Shevat. Put out a spread of choices. Encourage them to try unfamiliar foods and play around with flavor combinations. If all else fails, just have fun!
Here are your non-food supplies:
Small flower pots
An insert of either an orange or a foam ball that will fit inside the pot
Small kabob sticks
Fruit and veggie stickers to decorate the pots

Edible supply ideas(try to use only fruits or veggies that grow on trees):
Grapes
Dried figs
Dates
Dried apricots
Olives
Clementines



Directions:
Place orange or foam ball into the small flower pot. Create your own tree with kabob branches. Make your own design with your edible supplies. Place various fruits/veggies onto the sticks. Allow one to stick out of the top of the kabob stick so it looks like a flower. Stick the finished kabob stick design into the orange or foam ball. Repeat until you are happy with your design.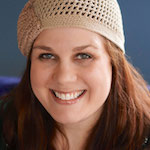 Natasha Rosenstock Nadel is a mom, journalist and author, and makes fruits and vegetables fun for kids and easy for grownups! After a decade of research, reporting, eating, and reading she wrote The Healthy Mama's Guide to feeding your family well – simply and sanely and The Healthy Family, Healthy You Cookbook.



---
Recommended for you:
---
GROW YOUR ISRAEL CONNECTION
Buy Israeli wildflowers to now fill your garden, your home and your heart!