Continuing to Serve: Life after the IDF
By Daniel Flesch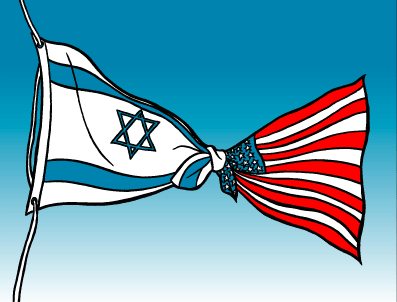 It's been nearly three years since I last wrote a blog post.
Then, I had just returned to the States from my IDF service. Without any clear direction, I worked on my congressman's re-election campaign for a few months. After he lost, I found employment, fittingly, at the Chicago office of the American-Israel Public Affairs Committee (AIPAC).
As the Leadership Management Director for Ohio, I traveled frequently to Cleveland, Columbus and Cincinnati and met with lay and professional leaders. My position focused on developing AIPAC's donor base, raising funds, and bringing new Israel advocates into the fold. AIPAC is an incredible organization; it does great work to further the US-Israel relationship and, despite all odds, is one of the few forces that can unite a divided and gridlocked Congress.
From a completely objective standpoint, it's amazing how it can take a singular focus, and one that is relatively limited in scope - Israel - and make it applicable to a wide and diverse cross-section of American society.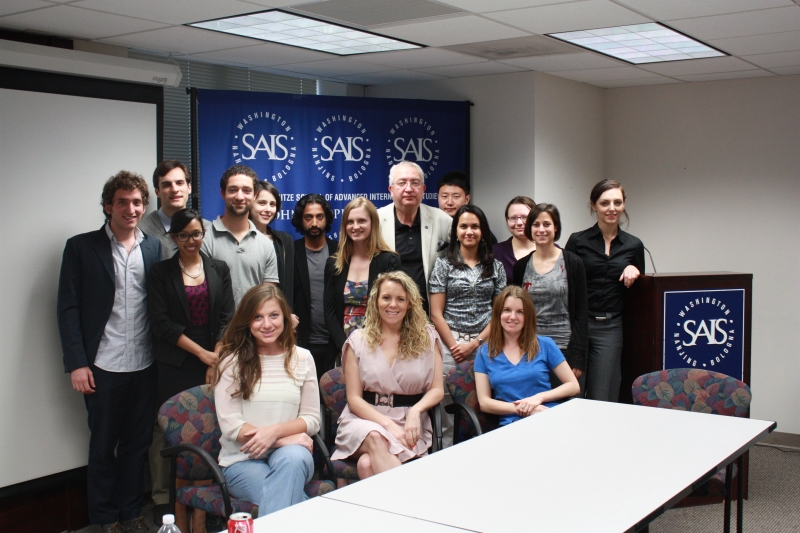 On a personal level, however, I quickly realized that fundraising is not my calling, so I applied to graduate school. In August 2013, I moved to Washington, DC and began studying at Johns Hopkins School of Advanced International Studies (SAIS). This May, I will graduate with a Master's degree in Strategic Studies and International Economics.
In addition to the phenomenal courses and extracurricular activities that my program offers, I have met many truly remarkable individuals. Not only are they my classmates, but they are also my friends. And not a few of them have served or are still serving in the US military.
Whenever I tell my story to American servicemen and servicewomen, they respond with nothing but admiration and respect. They see Israel as a great partner of the US, as a nation that is not afraid to act and does so not because it can but because it must. They recognize that the same forces they faced in the mountains of Afghanistan or the deserts of Iraq, Israel faces on and often within her borders.
However, much of the world, and a growing voice in America, believes otherwise.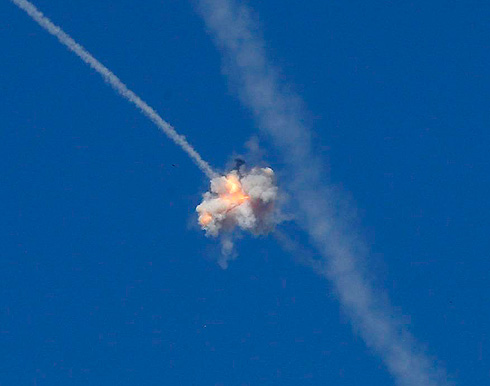 This became very apparent during Operation Protective Edge this past summer, Israel's five-week war against Hamas in the Gaza Strip. As rockets fell on Israeli cities or were shot out of the sky by Iron Dome, anti-Semitism experienced a frightening resurgence across Europe, and has not abated in the months since.
During Protective Edge, America learned something new: that its own citizens serve in the Israel Defense Forces.
Although the United States has a rich history of Americans serving in foreign militaries, many are ignorant of this story and of young Jewish American who decide to serve, to fight, and, sometimes, to die for another country.
This summer, tragically, Max Steinberg and Sean Carmeli, from California and Texas, respectively, were killed fighting for the IDF in Gaza. Like myself, they were lone soldiers. Their deaths prompted media outlets to investigate why Americans fight for Israel, and what, if any, are the larger implications. Suddenly, in July and August, articles were published about Americans in Israeli uniforms.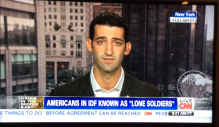 A reporter from CNN reached out to me and I was quoted for this article, "Answering a different call: Americans who fight for Israel". A few days later, I was interviewed live on CNN about serving as a lone soldier.
In September, the Lone Soldier Project and the Israel Forever Foundation held a L'Chaim to Lone Soldiers event at the Israeli embassy. I was asked to speak with a few other lone soldiers. (At a similar event in New York, my good friend and fellow Paratrooper Adam Rothman also spoke.
And then just this month, an article I wrote for Commentary Magazine was published. "Slandering Americans Who Fight For Israel" addresses the insidious and slanderous charge that lone soldiers possess a dual loyalty or are disloyal to the United States. I encourage you to read it and understand more about what motivates lone soldiers.
My purpose in sharing these publications and appearances is not for self-aggrandizement; nothing could be further from the truth. Instead, it is to help share our story. To educate the Jewish community, non-Jews, America and hopefully the world on why we choose to fight for Israel.
I am grateful to be in a position to share our story, to share the story of all chayalim bodedim (lone soldiers), and to shed light onto a world many are unaware that exists. Sadly, it is because of Max and Sean's deaths that our stories are now being heard and shared.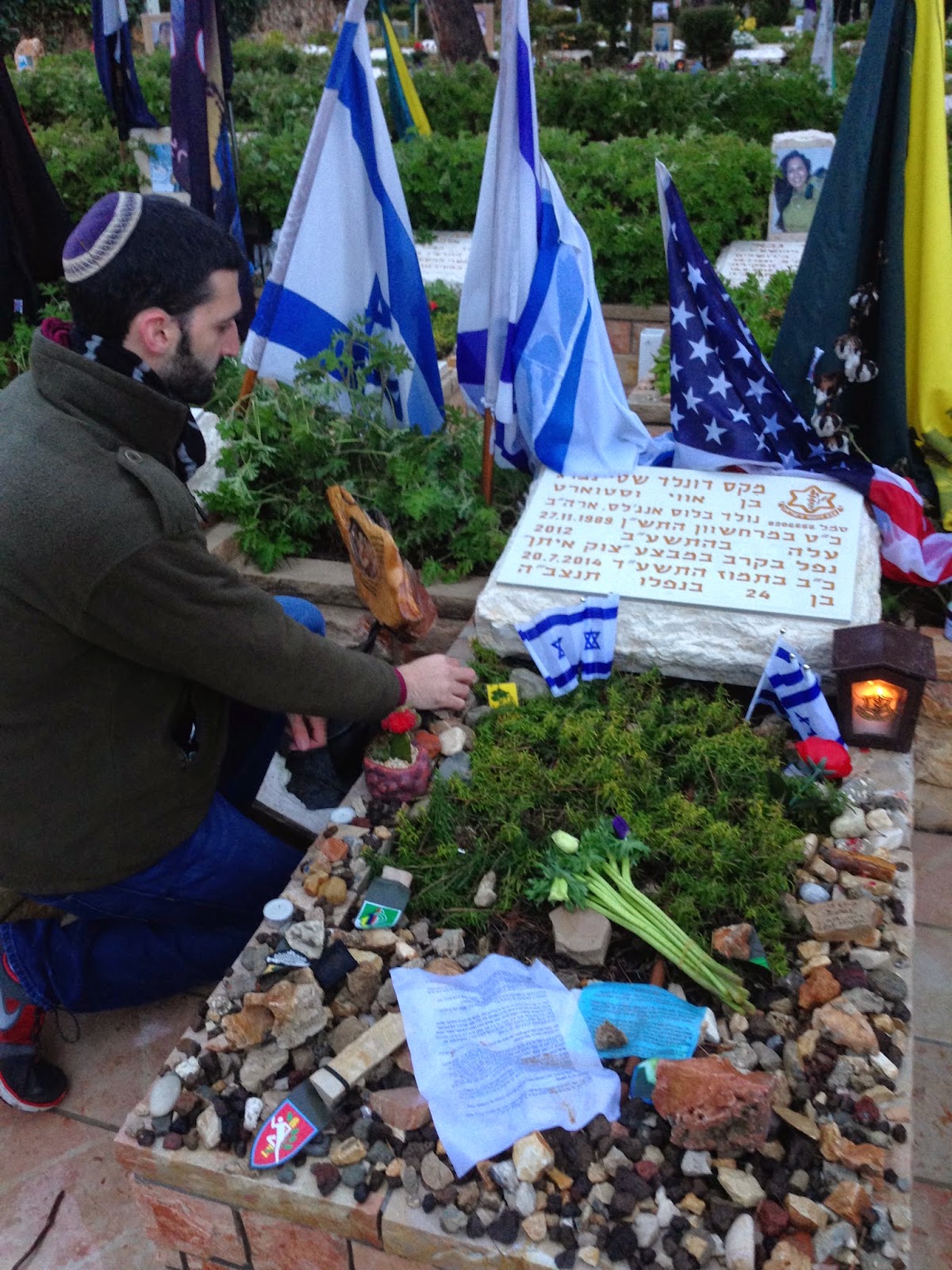 This past January, I had the opportunity to lead a Birthright trip to Israel. It was my second time back since being discharged from the army (I led a trip last winter). This year, when my group went to Mt. Herzl (Israel's Arlington National Cemetery), we stopped to see Max. (Sean is buried near Haifa.) The area in which he now rests is new; it wasn't there a year ago, but over sixty soldiers were killed this summer, so the cemetery has grown.
As we stood next to Max, I explained to my group why I chose to serve in the army. I told them Max and Sean's story. I described how everyone can make a difference and do their part to support Israel, to fight for Israel, to defend Israel.
Today, the fight is not just in the mountains of the Golan or the Upper Galilee, or in the urban centers in the West Bank, or along the coast of the Gaza Strip. Instead, the battle for Israel and for the Jewish people is in polite conversation and politically correct social and academic circles. It is wherever anti-Semitism gets a free pass. It is where your loyalty, your integrity, your dignity are questioned because of your religion and your faith. Israel is not the cause of anti-Semitism but it is perhaps the best weapon Jews have against it.
To defend Israel is to defend the Jewish people; to defend Israel is to defend a nation where tolerance, equality, liberty and freedom rule; to defend Israel is to defend Western and civilized societies against the forces of hate and oppression.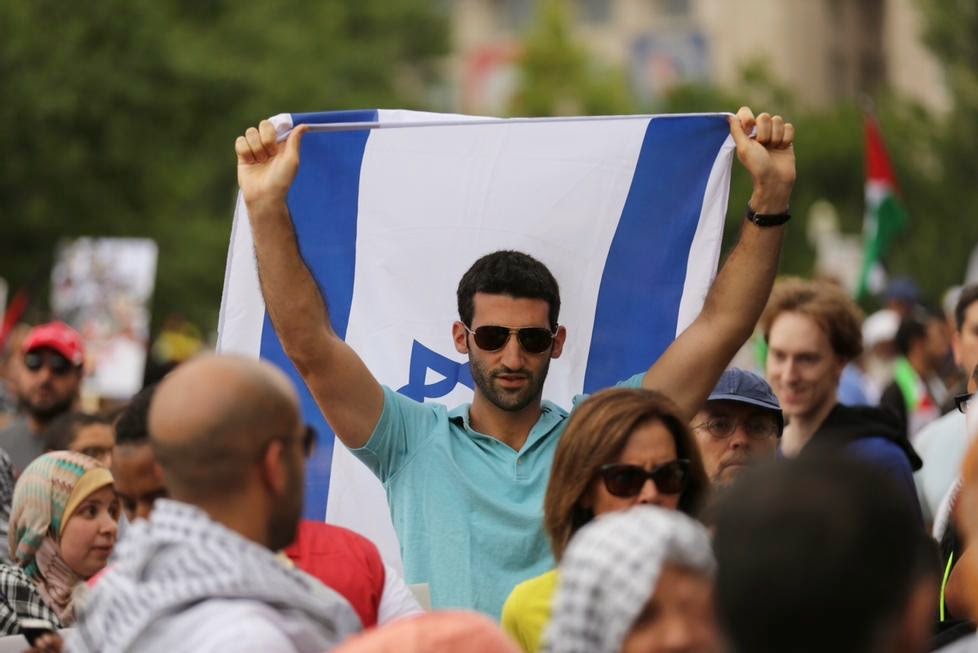 For me, Israel is the homeland of the Jewish people. For America and the world, Israel is an outpost of light in a growing expanse of darkness.
Let me close with a line I used at the L'Chaim to Lone Soldiers event:
The Paratrooper motto is "achari", after me. I joined the IDF to do my part to help the Jewish people. I hope this [blog] and our stories inspire you to do the same. You can stand up and become a leader and a voice. Whether you work in the Jewish world or not, you can always advocate and discuss Israel and Zionism. You can educate others and question those who let emotion trump reason.

Most importantly, collectively, we cannot forget those who continue to stand on that line, vigilantly defending our most sacred place. We must remember Max Steinberg, Sean Carmeli, Michael Levine, and all the other lone soldiers who have given their last full measure of devotion.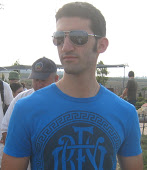 Daniel Flesch is an Israel advocate who went overseas to become a Lone Soldier in the Israel Defense Forces. Flesch, who is not an Israeli citizen, served more than 18 months. He became a paratrooper in the Israeli army and was recognized twice as the outstanding soldier of his platoon. He is now completing his graduate studies at Johns Hopkins School of Advanced International Studies in Washington D.C.
---
You can make a difference!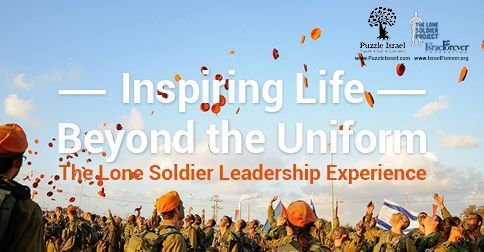 Donate to the future of Lone Soldiers and support the Lone Soldier Leadership Experience today!
---