The Fruits Of Our Labor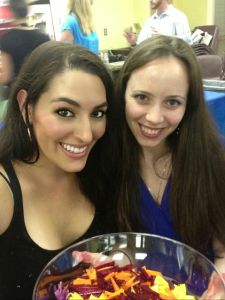 I recently had the opportunity to Taste Israel at Home, hosted by The Israel Forever Foundation! The event featured guest chefs Nir and Guy from Puzzle Israel, an organization devoted to exposing people and educating them about Israeli cuisine and culture.
Immediately upon walking into the event I was pleased to note the bounty of fresh fruits and vegetables on each table. Everything looked so ripe and delicious; it felt like I was walking around the shuk in Jerusalem.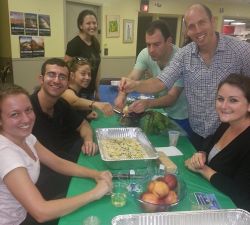 I was immediately greeted by the hosts of the event and made to feel welcome and at home. We were given a few minutes to socialize around the room, to meet and greet both old and new faces, and nosh on the delicious snacks and wine that The Israel Forever Foundation had graciously prepared. Nir and Guy then introduced themselves and told us how they founded Puzzle Israel and about their life in the Galilee region.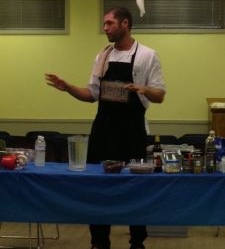 The founding of Puzzle Israel was a mutual dream for both of them and they have travelled to many different locales worldwide to expose people to Israeli culture.
As Jews, we place a great deal of value of our ability to connect to something through food. In our culture, Rosh Hashana is symbolized by apples dipped in honey, Chanukah by latkes, and Passover by Matzoh.
No matter how secular or religious a Jewish person may be, food is a shared cultural marker that all Jews recognize and identify with and can bond over. Food is intricately tied with our culture, and Israeli food, which is a mixture of the native cuisines of the diverse hodgepodge of immigrants to Israel, is a perfect example of this idea.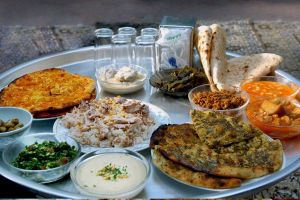 Israeli food symbolizes where our ancestors came from as well as our ability to adapt to living in the diaspora but yet retain our own individual identity as Jews. It is a representation of both our past and future.
Like the Jewish people, Israeli cuisine is capable of change and evolution. Most people equate Israeli food with hummus and falafel, but advancements in technology, new immigrants, and exposure to new cooking techniques have broadened Israeli cuisine and wine to include many new dishes that include local ingredients and a signature Israeli flair.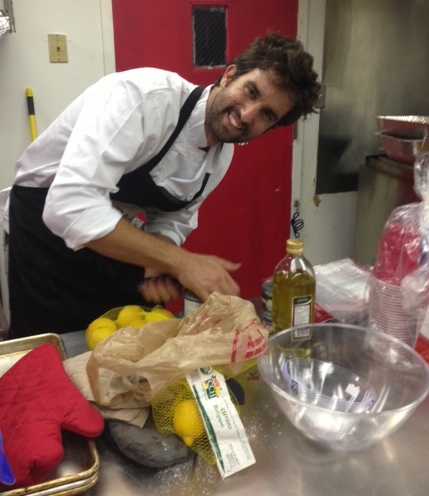 Following introductions it was time to cook. The head chef, Nir, was super friendly and enthusiastic about the food we were making. We began with what all good meals should begin with—bread, specifically focaccia.
"Stick your hands in the dough, I want you all to feel what dough should feel like!" he exclaimed. We all tentatively stuck our fingers in the dough, not exactly sure what we should be feeling besides sticky, but the experience made us laugh. Then, the finished dough was brought out and we studded it with lots of garlic, rosemary, and Israeli olive oil.
Following the focaccia (and a thorough hand washing), we began cooking the first course of the meal. We started making stuffed mushrooms, followed by a roasted red pepper soup, a delicious chopped salad filled with fresh beets, mango and red cabbage dressed with a pomegranate balsamic dressing, eggplant roulade stuffed with meat, and my personal favorite– a nectarine fruit crumble.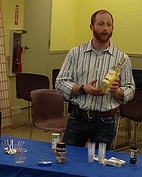 Nir walked around the room giving us tips about how to make the food extra flavorful and to improve our cooking techniques. As our food began cooking under close supervision by Chef Guy, we had a short course on Israeli wine from Andy of The Wine Harvest.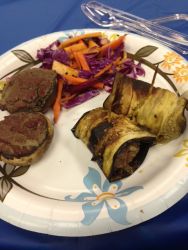 Then, it was time to try our food, and it was hard to contain our enthusiasm as Chef Guy began bringing out all of the delicious food we had made. We ate to our hearts' content, and then some, drank with gusto and enjoyed the fruits of our labors.
What a wonderful event and I was thrilled to learn new cooking techniques and recipes from the land of Israel! I cannot wait to try these Tastes of Israel at Home! B'Teavon!
---
Recommended for you:
---
STAY CONNECTED NO MATTER WHERE YOU LIVE