Cooking Israel Recipes for the Chagim
Around the world, Jews are getting themselves ready for the Chag season. With less than 2 weeks to go, and Rosh HaShanah as a 2 day holiday, the pressure is indeed on, especially for those preparing menus and shopping lists! As always, we want to create unique and festive meals to share with our family and friends.
What better way to inspire Israel during these days of celebration than to introduce some of our favorite recipes that reflect the bounty, beauty and spirit of the Land!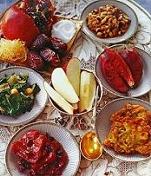 Some of the best Israeli recipes have traveled from countries near and far and every recipe is a delicacy of its own kind, each with its own story, its own particular ways of cooking, each with its own personality.

Adapted over centuries of Jewish migrations, Israeli dishes reflect the diversity of our culture, our people, and inevitably our cuisine. The many generations of immigrants that have returned to our ancient homeland have incorporated the native fruits, vegetables and grains that have been harvested here for thousands of years, translating them into inventive combinations of cheeses, produce, spices, meats and more.
The Israeli menu is a glorious collection of flavorful fun. As an avid lover of eclectic cooking, I have always admired the way Israeli foods reflect so much of what we all love about Israel - as if each dish is a window into something unique about this fabulous country, our people, culture and history… What better way to help people feel connected from a distance than to provide an ultimate resource for the chagim that puts the flavors of Israel at your fingertips and in your bellies!"
There are a million cookbooks out there, by world renowned chefs and based on Jewish tradition. Our goal is to help people add a particular focus on Israel as we celebrate this season of reconnecting, repentance, redemption. After all, every one of the Jewish holidays has its own unique relationship with the land and history that are linked with Israel in a positive and inspiring way. Now more people can get excited about incorporating them into their holiday meals.


In Israel, we are blessed with an abundance of vegetables, grains and herbs that provide our harvest throughout the year, allowing us to infuse the personality, history, culture and innovation of Israel in every delectable dish. The Talmud even gives precise instruction for planting and watering these herbs, an integral part of the local cuisine for the last 3000 years.
These recipes are a diverse collection of dairy, meat and vegetarian dishes, each providing a taste of Israel you and your friends and family can enjoy as you come together to celebrate this new year. Just as we seek to reconnect in so many ways over the holidays, so, too, should we be reminded of our connection to Israel – our ancient homeland - and her meaningfulness in our lives.
---
Recommended for you:
---
So join us in Cooking Israel to celebrate our journey from Rosh HaShanah, our Breaking of the Yom Kippur Fast, all the way through our dwelling in Sukkot. And let the aromas and flavors remind you of Israel, so far away, but forever in our hearts.


Let us all strive to be inspired and to Inspire Israel in the New Year that lay ahead!
About the Author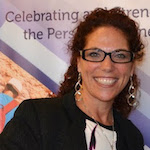 Dr. Elana Yael Heideman, Executive Director of The Israel Forever Foundation, is a dynamic and passionate educator who works creatively and collaboratively in developing content and programming to deepen and activate the personal connection to Israel for Diaspora Jews. Elana's extensive experience in public speaking, educational consulting and analytic research and writing has served to advance her vision of Israel-inspired Jewish identity that incorporates the relevance of the Holocaust, Antisemitism and Zionism to contemporary issues faced throughout the Jewish world in a continuous effort to facilitate dialogue and build bridges between the past, present and future.