From Gymnastics Champion To IDF Commander
Lt. Amit Danon made history by becoming the first woman to lead a platoon in the combat squad commanders course of the IDF's School for Infantry Corps Professions and Squad Commanders.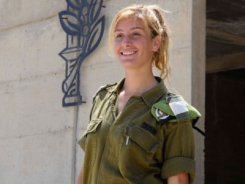 Lt. Danon, who was nicknamed "the princess" in her neighborhood, believes that women can and should be leading officers and commanders in the IDF. She is not afraid to dream big. "A woman can definitely serve as the Chief of Staff," Lt. Danon says.
After spending her teenage years as a professional athlete, winning a string of medals and competitions, Danon knew what it meant to devote 100 percent to her passions. When she joined the Israel Defense Forces, Danon decided to go all the way.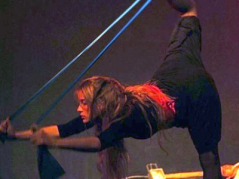 She put her leotard in the closet and signed up to be a combat soldier in the Caracal Battalion.
Like in her gymnastics career, Danon strove for excellence throughout her military service. Not long after joining the mixed-gender combat battalion, Danon discovered a passion for leadership and found herself drawn towards the squad commander course.
After proving herself as an effective squad commander, Danon was selected for combat officer training. She became the 15th woman in the history of the IDF to successfully graduate from the arduous course.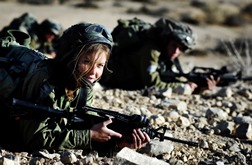 After serving for one year as a second lieutenant in the Caracal Battalion, the former gymnast arrived at her current position as a platoon commander in the School for Infantry Corps Professions and Squad Commanders.

"Dancing and combat are actually opposites, but there are some similarities," Lt. Danon says. "I always loved to challenge myself, and both endeavors are physically challenging."
Lt. Danon explained that Caracal had tried for a long time to send an officer from the unit to become a platoon commander at the school. Until Lt. Danon's arrival, all platoon commanders came from the infantry brigades, despite the fact that there was a squad consisting entirely of Caracal soldiers.
"I went through many exams and interviews in order to receive this position, and I'm happy that eventually I got accepted. Now it's my responsibility to set the bar," she says. "I'm happy to be the one pushing forward. There is a lot of talk about there being a female commander alongside many male commanders and it's part of what the Caracal Battalion represents," Lt. Danon said.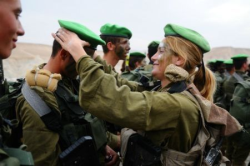 "The very existence of Caracal sends the message that women can fill any role that in the past no one believed they could," she continued. "Eventually there will be no separations at all. We just have to prove ourselves."
---
Recommended for you:
---
FLEX YOUR MUSCLES FOR ISRAEL