Young Professionals And Lone Soldiers: A LEADS Connection

After graduating from college, I moved to Boston for work and promptly enrolled in LEADS, a social introduction for young professionals to Boston's Jewish community and the Young Leadership Division of Combined Jewish Philanthropies. For a session focused on volunteering, all LEADS groups convened at CJP to lend both ear and effort to the Lone Soldier Project.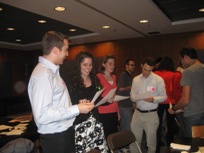 The turnout was impressive; LEADS attendees filled one of the larger rooms in CJP's offices, displaying the awareness and devotion with which the future generation of Jewish leaders recognized this important cause. It was indeed gratifying to observe the energy and interest that my peers applied to the figure of the lone soldier; I was personally thankful for it.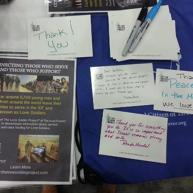 Young people of all professions, backgrounds, and origins bonded while writing personal notes and recording voice messages for lone soldiers currently serving in the Israel Defense Forces.
I have always possessed a visceral understanding of the importance of Israel to Jewish existence worldwide. My mother and her family are Israeli, and I was born and raised in a decidedly Israeli household. While my mother read to me stories from the Bible and Jewish folk legends, my grandfather regaled me with his experiences fighting for Israeli independence and freedom in 1948 and my grandmother spun tales of her own grandfather, an early Zionist who traveled the world soliciting funds for a Jewish state and whose synagogue in Jerusalem is still active.
Thus, the Lone Soldier Project, which supports those serving in the IDF far from their families, readily resonated with me. Every soldier in the Israeli army makes the ultimate contribution, and for many, the ultimate sacrifice, of life for the preservation of our nation and our secure and lasting future; these brave young men and women have taken their place among the ranks of those who are selfless, determined, and capable.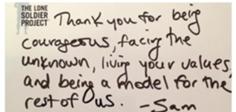 It is an honor to support them in their mission, even with something as simple as a postcard thanking them for their bravery and resolve. Such a modest demonstration of appreciation can go quite far in bringing comfort and warmth to our protectors, adding an extra layer of meaning to their service by conveying an understanding of their conviction and an appreciation of their relevance in our history both as a people and as a nation.
---
Recommended for you:
---
SUPPORT LONE SOLDIERS ON THE FRONT LINES