Jerusalem of the Caucasus: The Legend of the Red Village
By Milikh Yevdayev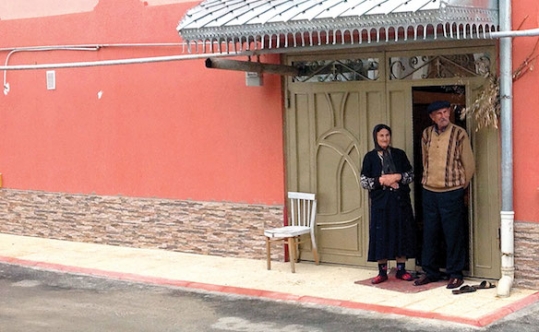 It is just before Shabbat in the Red Village, and sunset will be coming soon. I walk from the New Shul back to my house, and watch as young boys and girls run home to wash up before their meal and call shalom to each other.

On Friday of each week, late in the day, I see the sun going down over the Gudyalchay river, the orange roses growing below the stone walls, and smell of the Sabzi Qovurma Plov (lamb and rice) cooking for Shabbat in all the houses around me, beckoning me to join my wife for our own festive meal. You only get to experience that glowing sunset red across our village during the warmer seasons. During the winter, the magic of this place comes under a blanket of snow and when the sun hugs the rooftops, it looks as if a million tiny diamonds are ushering in the holy hour.

In 2011, I was elected as the leader of Mountainous Jewish community of Azerbaijan, at the large Synagogue in the capital city of Baku that our own government built and beautified as a gift for our community.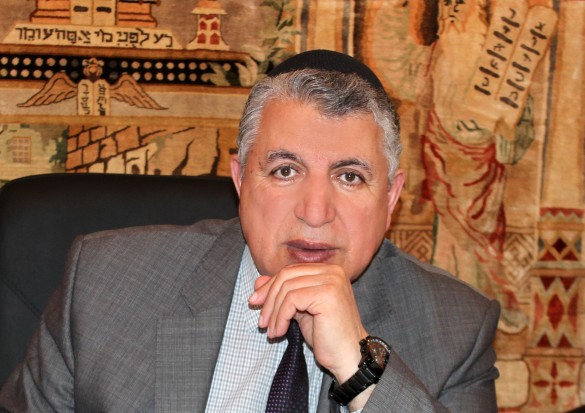 I cherish my community in Baku and I spend much time there. But it is the Red Village where I feel most connected, similar to the common sentiment, that no matter where you travel in Israel, Jerusalem is the deep heart and home of the entire nation. For a Jew in Azerbaijan, spending Shabbat in the Red Village is like returning to your most essential home.
As I take it all in, I reflect on the many young Jews that have grown up in my village over the years, how it has been a community for them in a way that so few places in the world have been for our people. This is where my family is from and where I was born and raised. No matter the years that keep passing in my life, these special moments bring me back as if time stood still. I remember myself as a child, playing in the safe and warm stone streets of our village, anticipating the time I would spend with my parents and siblings and cousins, and sometimes even my grandparents, as my mom's family lived not so far away. Today, we especially enjoy the Shabbat meals when they include visits from our 3 children and 6 grandchildren. Much like I did as a boy, the children spend as much of their free time as possible on the banks of the river, or playing and exploring the renowned Guba gardens, opulent and enchanting at any age.

This is our home. This is the Red Village. This is Azerbaijan.
For over two thousand years, Azerbaijan has been the kind of homeland that most Jews have always hoped for, and some would say we have yet to achieve. Historically, Jews that settled here in Azerbaijan have been far better off than those that were eventually able to return to Israel; those that were massacred by Romans, pushed in and out of Spain, to eventually suffer Hitler's atrocities in Europe in the 1930's and -40's. Now, in Israel, they still face some difficult security challenges.
On the other hand and 1,544 miles away, we bring in Shabbat in our majority-Muslim nation, living side-by-side with our neighbors as a proud and protected Jewish community; a homeland known for peace, acceptance and a true sense of community.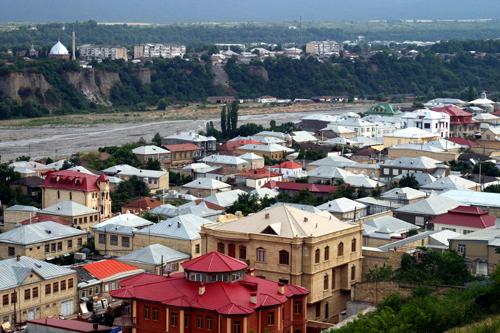 A shining example of the Azerbaijani spirit is my village and hometown "Qırmızı Qəsəbə" in Azerbaijani or "Krasnaya Sloboda" in Russian (translated to mean "Red Village"), which is today one of the largest all-Jewish shtetls/towns outside of Israel. Although there have been Jews in and around this small area on the outskirts of Quba for thousands of years, Red Village was established only in 1742, when the Azerbaijani Muslim ruler of the region (Quba Khanate) Huseynali Khan gave us permission to establish here our own town, without fear of persecution, across the river Gudyalchay from the main city.
Originally called Jewish Village, the name was changed to its current one when Azerbaijan was forcefully incorporated into the Soviet Union in 1920. After everyone was used to Red Village for many years, the name felt like home too. In every year since Azerbaijan restored its independence from the USSR 24 years ago, we have felt the security and solidarity with our neighbors.
This solidarity is returned by the Jewish communities across Azerbaijan, as our cherished Muslim and Christian countrymen have proven themselves true brothers and sisters of a shared and loved nation. This explains why so many Jewish-Azerbaijani soldiers voluntarily joined the Azerbaijani military defense effort in early 1990s to protect the country's territorial integrity against invaders.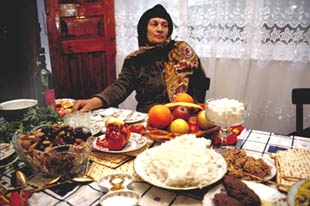 Copyright © Bryan Schwartz
Here we are free to live however we please, in a community that shares both the old traditions of centuries ago, and the new traditions of the younger generations. To have a Jewish day school where the children are from both Jewish and Muslim parents, a reality we accept without conflict. It is with this sense of peace and freedom that we prepare for another Shabbat, all of us here are in possession of a rare gift mostly unknown to even the global Jewish world.
Here in the Red Village, we live by respect and understanding for people of all faiths and cultures. As I near the end of my short walk home, surrounded and infused with the sounds and smells of the cooking as families prepare for Friday night dinner, I cannot help but to feel a profound sense of awe. I feel this especially in that final hour before the sun sets, when the bright and low hanging light dances across the freshly washed streets, and the Red Village rooftops come alive with a warm, pink sky.
As I take all of this in, I feel that I am blessed, and I wish my neighbors here and across the world a Shabbat Shalom.
---
Recommended:
---
How are You Building a Connection to Our Homeland?